Band: Until Rain
Titel: Anthem To Creation
Label: Escape Music
VÖ: 2013
Genre: Progressive Metal
Bewertung: 4/5
Written by: Thorsten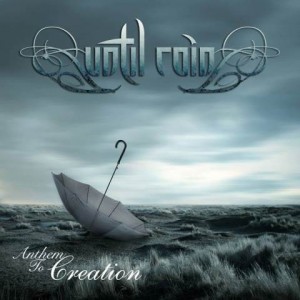 Seit 2004 agieren die Griechen UNTIL RAIN als Progressive Metal Band, wobei sie aber auch gern im Bombast Melodic Metal, Electronic Bereich aber auch im Experimental/Art Rock wildern.
"Anthem To Creation" ist bereits der 2.Longplayer der Band (+ eine EP) und beinhaltet starken Progressive Metal, wie wir ihn ähnlich u.a. auch von SYMPHONY X kennen, nur etwas technischer, kühler!
Gut produziert hört man auf Dauer aber auch andere Genregrößen heraus, ob nun die Meister DREAM THEATER oder sogar KAMELOT…das liegt daran, dass sich die Band nicht in ein reines Prog-Kostüm zwingen lassen und auch zeigen möchte, was sie alles kann!
Daran leidet zwangsweise ein wenig das Songmaterial, welches schnell Abnutzung aufweist, die auch der Gesang nicht wirklich wettmachen kann.
Um mit anderen "Prog´stern mithalten zu können, versucht die Band sich in den Prog-Himmel zu frickeln, findet aber sehr oft nicht wirklich den Weg zurück und hinterlässt hier und da eine klaffende Soundwunde die Bands wie z.B. PSYCHOTIC WALTZ problemlos schließen können. Andererseits versucht sich die Band auch als Melodic-Bombast Metaller, aber auch hier sind leider nur die guten Ansätze zu vermelden, denn man verfällt gern dem LUCA TURILLI-Phänomen (Bombast und Fiedelei bis die Ohren bluten)!
Ich denke, mit einem genreerfahrenen Produzenten, wäre hier bedeutend mehr bei rausgekommen, was die Qualität des Albums nicht stark schmälert, denn es gibt immer wieder neue Passagen zu entdecken, die sich ins Gehör bohren! Aber leider nicht immer ausgereift bis ins Hirn gelangen…
Sehr komplex und nicht wirklich von der Stange, Proggies sollten unbedingt 6-9 Mal ein Ohr riskieren und mir bitte Ihre Meinung dazu geben…
Tracklist:
01. Brain Death
02. Think Again
03. Living Hell
04. My Own Blood
05. Empty Helmet
06. 13-8
07. The Clang Of Shields Pt. I
08. The Clang Of Shields Pt. II
09. Anthem To Creation
10. Breaking Of The 7 Seals
11. Marionettes
Besetzung:
Bill Gkagkavouzis (bass)
Yannis Papadopoulos (voc)
Theodore Amaxopoulos (guit)
Lefteris Germenlis (keys)
Alex Hughes (drums)
Internet:
Until Rain Website