Band: VICIOUS RUMORS
Titel: CONCUSSION PROTOCOL
Label: Steamhammer / SPV
VÖ: 26.08.2016
Genre: Metal
Bewertung: 4/5
Written by: Maze P.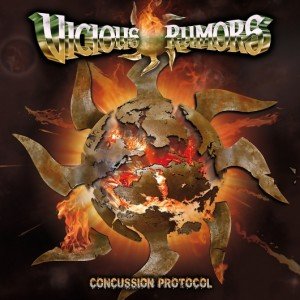 Jeder Metal – Fan weiß genau: Die aus Kalifornien stammenden Metal Giganten Vicious Rumors hängen sich an keinen Trend, sie kreieren ihn selbst. Ist Ihnen dies auch mit der neuen Platte gelungen? Mit ihrem neuen Silberling "Concussion Protocol", die von Steamhammer/SPV auf den Markt geschmissen wurde, beweisen die Pioniere des Power Metal erneut ihre Innovationsfähigkeit, mit der sie immerzu neue Wege und unterschiedliche musikalische Territorien erforschen. Es ist ja immerhin so, dass sich, auf die lange Zeit ihrer Existenz gesehen, geniale Live-Shows mit eingerechnet, die Band zu den Vielseitigsten ihres Genres zählen dürfen. Dafür haben natürlich auch deren Klassiker Alben " Soldiers of the Night", und "Digital Dictator" gesorgt. Nun, nach dem eher seichten Werk "Electric Punishment" kommt die neue 2016er Platte gerade recht.
Seit ihrem Comeback im Jahre 2010 haben die Jungs ordentlich Gas gegeben und trotz Sängerwechsel keine Rückschritte erlitten, sondern sind eher noch mehr nach Vorne geprescht. Vom ersten Ton an explodiert die Platte mit einer neu entfachten Leidenschaft, die so scheinbar nur in einer Band vorkommt, die Neu und Alt zusammenprallen lässt. Routinierte Songschreiber geben sich hier mit dem neuen und gewaltigen Sänger die Klinke in die Hand. Vielschichtiger könnte das Album kaum sein: Melodisch und brutal erobern die Songs die Herzen und die Ohren des Zuhörers. Das Songwriting passt perfekt zusammen, die Produktion ist genial und die Instrumentalleistung ist hervorragend. Ganz zu schweigen von der gesanglichen Leistung. Ich bin beeindruckt ob dieser Platte. Hart, Härter, Vicious Rumors´ "Concussion Protocoll". Daumen hoch! Rock on!
Trackliste:
01. Concussion Protocol
02. Chemical Slaves
03. Victims Of A Digital World
04. Chasing The Priest
05. Last Of Our Kind
06. 1000 Years
07. Circle Of Secrets
08. Take It Or Leave It
09. Bastards
10. Every Blessing Is A Curse
11. Life For A Live
Besetzung:
Vocals: Nick Holleman
Guitars: Geoff Thorpe
Guitars: Thaen Rasmussen
Bass: Tilen Hudrap
Drums: Larry Howe
Internet:
Vicious Rumors Website
Vicious Rumors @ MySpace