Band: Vulgar Devils
Titel: Temptress Of The Dark
Label: Pure Rock Records
VÖ: 02.12.2016
Genre: Heavy Metal/Rock `n Roll
Bewertung: 2,5/5
Written By Gunther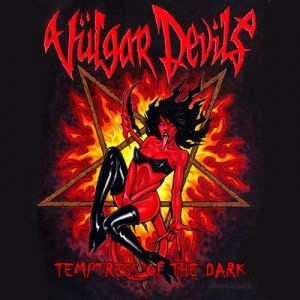 Mit "Temptress Of The Dark" veröffentlichen die VULGAR DEVILS ihr Debutalbum. Das Trio besteht jedoch nicht aus unerfahrenen Musikern. Das Line Up der Amis wird von Sänger und Gitarrist Dave Overkill angeführt, welcher von der Cleveland Legende DESTRUCTOR manchen ein Begriff sein wird. Mit an Bord sind sein Bandkollege und Schlagzeuger Matt Flammable und der VENOMIN JAMES Bassist Eric Lung. Die acht Songs auf "Temptress Of The Dark" beschwören den Spirit des 80er Metals und sind eine Mischung aus Heavy Metal, Hardrock und rotzigen Rock `n Roll. Die Musik kommt recht eigenständig und gut produziert rüber. Egal ob "Devil In Love", "Forget About Tomorrow" oder der Titelsong selbst, hier werden rockige Gitarrenriffs – immer nach dem gleichen Schema -gezockt und das einzig markante an dem Sound ist das Organ von Dave Orverkill. Überraschenderweise erinnert es sehr stark an Bruce Dickinson, obwohl ansonsten keine Parallelen zum NWOBHM zu finden sind. Das musikalische Niveau der VULGAR DEVILS ist zwar in höheren Gefilden angesiedelt, trotzdem stellt man sich hier die Frage wie viele neue Fans man mit dieser Scheibe wohl ansprechen wird. Denn die Titel gehen zwar schnell ins Ohr, es fehlt ihnen jedoch enorm an Abwechslung. Zu monoton plätschert "Temptress Of The Dark" vor sich hin. Selbst wenn der Chorus in "Worlds End" oder "Slump Buster" zweistimmig gesungen wird, ändert das nichts an der fehlenden Vielfalt. So vergehen die gut 40 Minuten Spielzeit ohne nennenswerten Höhepunkt und hinterlassen einen dementsprechend faden Beigeschmack. Am originellsten ist da noch das Coverartwork ausgefallen, eine Tatsache die für die fehlende Qualität der Songs spricht. Eigentlich schade, denn das Potential für mehr ist bei diesen erfahrenen Musikern auf jeden Fall vorhanden.
Tracklist:
1. Devil Love
2. Come And Get It
3. For The Kill
4. Forget About Tomorrow
5. Worlds End
6. Slump Buster
7. Temptress Of The Dark
8. Vulgar Devils
Besetzung:
Vulgar Dave Overkill – Vocals, Gitarre
Erin Lung – Bass
Matt Flammable – Drums
Internet: