Band: Whorion
Titel: The Reign of the 7th Sector
Label: Inverse Records
VÖ: 24. April 2015
Genre: Symphonic Technical Death Metal
Bewertung: 5/5
Written by: Atranok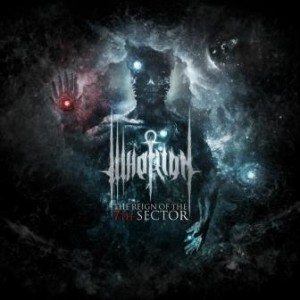 "The Reign of the 7th Sector", das erste Full-Length-Album der 2009 gegründeten finnischen Band Whorion, stellt einen würdigen Nachfolger zu ihrer EP "Fall of Atlas" aus dem Jahr 2014 dar. Laut eigener Aussage sollen die Werke "Metal that cracks Bones" mit symphonischen Elementen verknüpfen – und das gelingt den Jungs mit nahezu unbeschreiblicher Perfektion.
Das gesamte Album ist eine gelungene Zusammenstellung aus packenden Melodien und gleichzeitig niederschmetternden Riffs, untermalt von brachialen Drumspuren und abgerundet durch mitreißende Vocals. An keiner Stelle des Albums kommt Langeweile auf, ganz im Gegenteil: Jeder Song macht Lust auf mehr und man fragt sich, was wohl das nächste Lied noch einzigartiger machen könnte.
Die Finnen verstehen ihr Handwerk und liefern wahre Symphonien für die geübten Ohren von Tech-Death-Fetischisten, indem jeder Song den richtigen Mix aus extremen Riffs und epischen Melodien beinhaltet. Das gewisse Etwas fügen die durchdachten Drums und die hammerharten Vocals hinzu, womit dieses Album aus 8 Kunstwerken besteht, die in keiner Sammlung fehlen sollten.
Fazit: Whorion's "The Reign of the 7th Sector" stellt einen gelungenen Auftakt einer aufstrebenden Band dar. Man darf gespannt sein, was die Truppe künftig noch entfesselt, und hoffen, dass sie den hier aufgezeigten Weg unbarmherzig weitergeht. Klare Kaufempfehlung für alle, denen Geschwindigkeit und Härte gepaart mit epischen Melodien und technischer Finesse in ihrer Musiksammlung nicht fehlen darf.
Tracklist:
Chapter One: As Divine Crumbles:
1. Flesh Of Gods
2. When The Moon Bled
3. Awakening
4. Blood Of The Weak
Chapter Two: Kindling The First Flame:
5. Forbidden Light
6. Gates Of Time
7. Immaculate
8. Arrival Of Coloss
Besetzung:
Ari Nieminen – Vocals
Ep MKN – Vocals/Guitars
Dorian Logue – Bass/Backing vocals
Heikki Saari – Drums
Antti Lauri – Guitars
Internet:
Whorion Website