Band: Within Silence
Titel: Gallery Of Life
Label: Ulterium Records
VÖ: 08. Mai 2015
Genre: Melodic Power Metal
Bewertung: 3/5
Written by: Lazer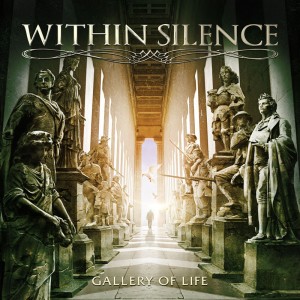 Das Debütalbum der slovakischen Melodic Power Metal Band Within Silence hört auf den Namen "Galery Of Life" und kommt mit elf Tracks angerauscht. Knapp 52 Minuten lang geben die Jungs Gas und geigen voller Leidenschaft auf. Angelehnt an Größen wie Sonata Arctica oder Stratovarius bietet die Mannschaft rund um Sänger Martin Klein Power Metal in seiner Durchschnittsform. Zugegeben, die Melodien sind eingängig, reichen aber von Ohrwurmcharakter bis kitschig. Die Drumspuren sind solide, könnten aber etwas brachialer sein. Mit Hilfe der Backing Vocals erreicht man dezente Ähnlichkeiten mit Hammerfall. Insgesamt ist die Produktion passabel aber leider mehr auch nicht. Man hat das Gefühl, dass es das hier Dargebotene schon zu Hauf gibt und man es schon fast viel zu oft gehört hat.
Mein Fazit: Within Silence ist sichtlich bemüht, ihre Vorstellungen von Melodic Power Metal gut umzusetzen. Es reicht momentan aber noch nicht für den ganz großen Wurf. Für ein Debütalbum ist die Arbeit aber allemal zu würdigen. Man darf gespannt sein, wo die Reise für Within Silence noch hinführen mag.
Tracklist:
01. Intro
02. Silent Desire
03. Emptiness Of Night
04. Elegy Of Doom
05. The Last Drop Of Blood
06. Love Is Blind
07. Anger And Sorrow
08. Judgement Day
09. The World Of Slavery
10. Road To The Paradise
11. Outro
Besetzung:
Martin Klein – Vocals
Martin Cico – Guitars
Richard Germanus – Guitars, Backing Vocals
Filip Andel – Bass, Backing Vocals
Peter Gacik – Drums
Internet: