Band: Aborym
Titel: Dirty
Label: Agonia Records
VÖ: 2013
Genre: Industrial Black Metal
Bewertung: 5/5
Written by: Heimo Zlöbl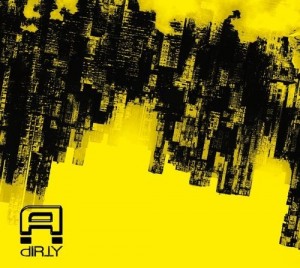 Rund um die Italiener ABORYM ist in den letzten 10 Jahren relativ still geworden – eigentlich ja gar keine Art für Industrial Black Metaller. Mit ihrem neuem (eigentlich Doppel-)Album "DIRTY" möchten sie nun an alte Erfolge von den Vorgängeralben "KALI YUGA BIZARRE" und "FIRE WALK WITH US" anknüpfen. Gelungen?
Klatsch – da gibt's gleich was auf die Ohren. Eine wahre Übersättigung verschiedenster Klangelemente und Effekten, gepaart mit der Lust an Details, Geschwindigkeit, Düsternis und Kälte.
Die Nummern sind allesamt aber nicht nur verwirrend, verstörend oder einfach nur schräg, sondern ebenso tanzbar und auch – trotz der Übersättigung – auch irgendwie einprägend.
Es scheint, als würden sich Ministry, The Prodigy, Anaal Nathrakh und auch manchmal Dimmu Borgir (vor allem bei den orchestralen Samples) die Hand geben.
Wer glaubt, es gibt auch mal Momente zum Entspannen, der sucht bei ABORYM (fast) vergeblich – höchstens mal ein paar Takte (am meisten noch bei "The Factory of Death"), die etwas ruhiger wirken, aber dann geht's gleich wieder mit Vollgas weiter – und das gefällt mir bei den Italienern. Da bekommt man, was man bestellt 😉
Schade, dass die 2. CD nicht zum Bewerten dabei war, wären doch neben 2 Neuaufnahmen alter ABORYM-Songs auch Covers von Maiden (Hallowed be thy name), Pink Floyd (Comfortably Numb) und NIN (Hurt) dabei – sicherlich sehr gut interpretiert.
Abschließend gibt's hier nur zu sagen, dass DIRTY ein sehr starkes Album geworden ist und sicherlich an den Erfolg der wegweisenden "Kali Yuga Bizarre" und "Fire Walk With Us" anküpfen wird.
Industrial-Fans und auch Extreme-Metal Freaks jeglicher Art kommen bei ABORYM voll auf ihre Kosten – Schräger Shice 😉
Tracklist:
Disc 1
01. Irreversible Crisis 04:23
02. Across the Universe 05:28
03. Dirty 03:42
04. Bleedthrough 03:24
05. Raped by Daddy 05:29
06. I Don't Know 04:32
07. The Factory of Death 07:07
08. Helter Skelter Youth 04:15
09. Face the Reptile 05:32
10. The Day the Sun Stopped Shining 05:23
Disc 2
01. Fire Walk with Us (new version) 06:48
02. Roma Divina Urbs (new version) 08:50
03. Hallowed Be Thy Name (Iron Maiden cover) 06:03
04. Comfortably Numb (Pink Floyd cover) 06:32
05. Hurt (Nine Inch Nails cover) 04:55
06. Need for Limited Loss (new track) 05:19
Besetzung:
Malfeitor Fabban (bass, keys & voc)
Paolo Pieri (guit, keys & programming)
Bard Eithun "Faust" (drums)
Internet: