Band: Brain Damage
Titel: Born to Lose…Live to Win
Label: Selfreleased
VÖ: 2014
Genre: Thrash/Power Metal
Bewertung: 4,5/5
Written by: Robert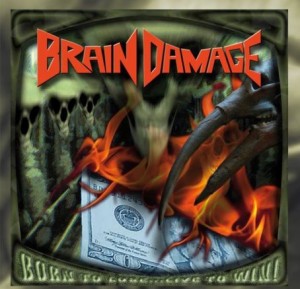 Brain Damage wurden durch "Vendetta"-Gründungsmitglied Michael "Micky" Wehner und dem ehemaligen VENDETTA-Sänger und Gitarrist "Daxx" 2009 gegründet. Seit diesem Zeitpunkt hat man selbst felsenfest an sich gearbeitet und nach neuen Mitgliedern umgesehen. Achim "Daxx" Hömerlein hat die Gitarre laut Angaben an den Nagel gehängt und widmete sich fortan mehr den Lyrics für die neue Band. Aufgrund dessen, das die Formation ja vorher ein fester Bestandteil einer der vielen Vendetta Bands war (es gibt ja Zick Bands mit demselben Namen) darf man wohl auch annehmen, dass man die Einflüsse in die neue Band mitgenommen hat. Es stellt sich einem auch die Frage, ob man wohl so klingt wie die ehemaligen Kollegen oder damals Mitstreiter bei der Scheibe "Hate". Dann wollen wir uns in das schon längst überfällige Debüalbum "Born To Lose…Live To Win" mal genauer reinhören. Freilich hat man Bestandteile aus dem alten Bereich mitgenommen, doch vielmehr höre ich persönlich eine breite Facette raus, welche durch die Formation Risk. Wie auch die ehemaligen Szenekollegen, machen Brain Damage dort weiter, wo die Jungs um den Rattman aufgehört haben. Satte Mischung aus Power und Thrash Metal und diesen hat man mit gut gelungenen Melodien umgemünzt, sodass eine sehr schöne Mischung entstanden ist. Dass auch Paradox Drummer Daniel Bud mit an Bord ist mag vielleicht vorerst etwas danach klingen, das ja ein Schlagwerker keine Einflüsse mitbringt. Doch bringt er und zwar von seinem zweiten Standbein und die Mischkultur aus Risk, Vendetta und Paradox ist sehr gut fusioniert worden. Soundtechnisch mag man wohl eher die Old School Fraktion mehr ansprechen, doch in diesem Bereich macht man dies mit einem sehr großen Aufsehen. Satte Bretterriffs rotieren und drücken aus den Boxen und werden immer wieder von tollen Melodiesolis begleitet bzw. duellieren sich die beiden Axtschwinger. Bis zum infernalen Exzess wird dies nicht betrieben und so darf man auch hier von einer guten Mischung und dem folgenden Einsatz sprechen. Die Unterfrankener sind schon alte Hasen und so verwundert es einen auch nicht, dass ihre Gebräu aus Speed, Thrash und Power Metal ordentlich in den Gehörgang knallt. Nichts wirkt altbacken, ausgelutscht oder gar unausgegoren, alle Rädchen greifen ins nächste und somit kommt die anlaufende Maschinerie zu einer vortrefflichen Hochtour-fahrt. Zu stoppen ist die Truppe da von niemandem und so werden Nägel mit Köpfen gemacht. Die Tracks wandern unvermindert in den Gehörkanal und harken sich dort auch fest. Durch die raue Stimme des Fronters einfach grandios, denn so bietet man einen breiten, rauen klang der zu dieser Mischung sehr gut passt.
Fazit: Es hat zwar länger gedauert, doch das Endergebnis hat sich ausgezahlt. Brain Damage servieren uns mit ihrem Debüt ein zeitloses Werk in der Duftmarke des Power, Speed und Thrash Metal.
Tracklist:
01. Anarchy 04:27
02. Terrorizer 05:28
03. Bite 03:42
04. Born to Lose 03:34
05. The Fall 05:41
06. Shooter 02:41
07. Arachnophobia 07:21
08. Revenge 06:14
Besetzung:
Michael "Micky" Wehner (guit, voc & keys)
Daniel Buld (Evil Ewald) (drums)
Michael "Michel" Lorz (guit)
Michael "Michäl" Guerra (bass)
Inernet: