Band: Crystal Palace
Titel: Dawn Of Eternity
Label: Gentle Art Of Music/Soulfood
VÖ: 10.06.16
Genre: Art Rock
Bewertung: 5/5
Written by: Robert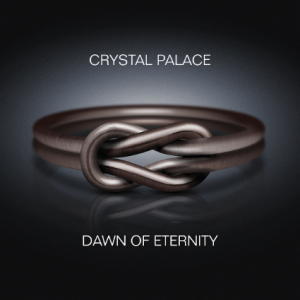 Als melodische Marillion, Dream Theater meets Genesis wurden mir zum Start der Karriere von Crystal Palace durchaus schmackhaft gemacht. Drei Jahre sind nun verstricken und nun kehren die deutschen, besser gesagt in Berlin beheimateten Art Rocker zurück und legen mit "Dawn Of Eternity" nach.
Dass man spielerisch vieles auf dem Kasten hat weiß ich und demnach war ich richtig gehend gespannt, ob man dies auch auf dem neuen Rundling wieder umsetzen wird. Alleine schon das bedrohlich-mächtige Intro lässt durchaus wieder darauf schließen.
Die eingangs erwähnten Elemente der großen Vorreiter des Progressive Bereichs sind durchaus erkennbar, dennoch würde ich niemals in die Verlegenheit kommen die Jungs als schlappe Kopie zu titulieren, dazu haben die Berliner einfach zu viel auf dem Kasten. Große Fußstapfen sind es durchaus, aber und das muss man den deutschen Art Rockern hoch anrechnen, sie verstehen es eine verspielte Rockmusik zu kreieren, ohne dabei irgendwann zu verwirren. Besonders schmackhaft macht man uns das folgen der sehr dominante veranschlagten Soundexperimente mit schmucken Überleitungen. Somit mag das Material durchaus komplexer veranschlagt worden sein, aber man führt uns sehr sachte in die vielen Klangbahnhöfe.
Dass sie zu den Art Rockgrößen mittlerweile zählen steht außer Frage und den Status untermauern sie mit ihrer Leistung wieder enorm.
Alleine schon die tollen Stimmungsschwankungen innerhalb der Tracks lassen laut aufhorchen, ob nun gefühlvolle, sehr klare Parts, wie auch etwas schroffere Linien, alles wurde von den Berlinern zu einem tollen Soundgemisch vereint. Hier und da kommt es sogar zu durchaus bombastisch-symphonischen Elementen. Eine weitere Bereicherung, welche die Musik von Crystal Palace einfach zu einem Hörkino machen.
Man kann auf ganzer Front den Silberling in einem Stück genießen, muss sich aber bewusst sein, dass, das Material einfach sehr langfristig fesselt. Also nichts für lockeres rein-raus, sondern Zeit einräumen, denn einmal in den Sog der deutschen Art Rocker gefangen, kommt man nicht mehr so schnell von ihnen los.
Fazit: Es mag sicherlich jetzt kein Härtealbum des Progressive sein, aber und das steht außer Frage, die klangliche Raffinesse dieser Berliner ist schier unangefochten. Hörkino im ganz großen Stil. Einlegen, einschalten und mit voller Lautstärke genießen!!!!
Tracklist:
01. Dawn 02:35
02. Confess Your Crime 08:26
03. Eternal Step 06:31
04. Any Colour You Need 08:19
05. Daylight After the Rain 03:32
06. Fields of Consciousness 06:35
07. Hearts on Sale 05:45
08. Eternity 02:00
09. All of This 05:43
10. Sky without Stars 05:21
11. The Day that Doesn't End 04:15
Besetzung:
Jenz Uwe Strutz (voc & bass)
Frank Köhler (keys)
Tom Ronney (drums)
Nils Conrad (guit)
Internet: