Band: End Of Pipe
Titel: Keep Running
Label: Bomber Music
VÖ: 2014
Genre: Melodic Punk Rock
Bewertung: 2/5
Written by: Lex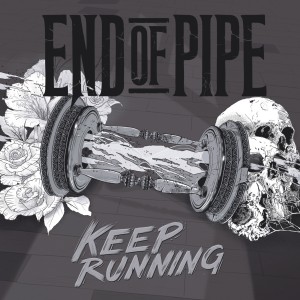 Die gegründeten Brasilianer END OF PIPE spielen sich seit 2006 mit ihrem 90erlastigen Melodic Punk durch die Gegend. Der klingt jetzt auch nicht schlechter oder besser als anderer poppiger Punk, der statt Krawall eher auf Skateboards und gelegentlich mal einen Joint gebürstet ist. Halbwegs gefällig daddelt "Keep Running" so vor sich hin, ohne wirklich Begeisterung wecken zu können.
Ganz gut/ok, aber ziemlich beliebig. Wem der Nischenmarkt noch lange nicht zu übersättigt ist, kann das Album hier bei Bomber Music  kaufen.
Tracklist:
01. Fall
02. Pollution
03. Rain (feat Koala)
04. Jack
05. Slow Trip
06. Keep Running
Besetzung:
Uirá Medeiros (Guitar / Vocals)
Pedro Marques (Guitar / Vocals)
Victor Berretta (Drums)
Alex Ritter (Bass)
Internet: