Band: Faithsedge
Titel: The Answer Of Insanity
Label: Scarlet Records
VÖ: 2014
Genre: Hard Rock/Progressive Metal
Bewertung: 2/5
Written by: Lex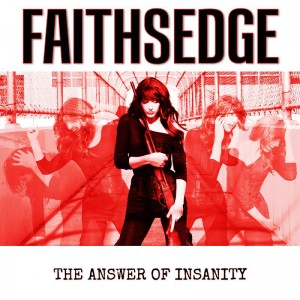 Die italienisch-amerikanischen progmetallischen Hardrocker FAITHSEDGE liefern mit "The Answer Of Insanity" ihren zweiten Longplayer ab. Diese Jungs bekommen ganz schön viel Rückenwind, während ich das ganze Lob nicht so recht nachvollziehen kann.
Obwohl "The Answer Of Insanity" nicht wirklich schwerverdauliche Kost ist, bleibt mir der progressive Hard Rock letzten Endes letzten Endes doch einfach zu chaotisch. Nein, das ist es auch nicht: Im Prinzip bleiben die Songs trotz kleinen technischen Spielereien immer nachvollziehbar und gehen theoretisch auch gut ins Ohr. Die Theorie scheitert in der Praxis daran, dass mir das Album während des Anhörens emotionsmäßig völlig egal ist. Es kommt einfach keine Gaudi auf. Es ist ein bisschen wie bei Komödien, bei denen man zwar weiß, was der Witz in dieser und jener Szene sein sollte. Und man findet es von der Idee her sogar witzig. Aber es funktioniert einfach nicht.
Genau so geht´s mir bei dieser Scheibe von FAITHSEDGE: Beisipielsweise "Ah, jetzt kommt der traurig-zornige Song (Pray For This). Hab´s kapiert, aber ich hör nur angeschlagene Noten mit Absichten ohne viel Wirkung".
Tracklist:
01. Now I Know the Truth
02. Revolve My World
03. The Way I Have to Let You Go
04. Are We Gonna Stand?
05. Comes Crashing Down
06. Saving Anything
07. Pray for This
08. Until Your Home
09. When I Lost You
10. Destroy You
Besetzung:
Giancarlo Floridia (Vocals /Guitar)
Alex De Rosso (Lead Guitar)
Tony Morra (Drums)
Eric Ragno (Keyboards)
Internet: