Band: Magnum
Titel: The Valley of Tears – The Ballads
Label: Steamhammer/SPV
VÖ: 06.01.17
Genre: Epic Hard Rock, Epic Melodic Rock
Bewertung: ohne Bewertung
Written by: Robert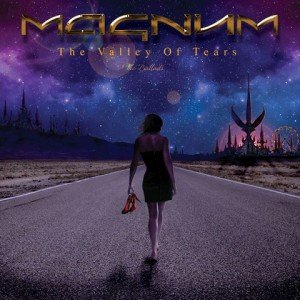 Blickt man etwas zurück, zu den Entstehungsphasen der Annäherungsversuche mit dem weiblichen Geschlecht, hatte da jeder so seine Fables der musikalischen Abenduntermalung für ein kuscheliges tête-à-tête. Zugegeben Death oder gar Black Metal an sich konnte man da ja nicht auflegen, zumal es dagegen Ladys gibt, welche bei einer gemütlichen Zweisamkeit dem hold sind. Persönlich hätte ich da für alle eine neue musikalische Untermalung. Wenn, dann gleich im ganz großen Stil und nicht die x-te Kuschelrock oder was weiß ich für eine rockige Kuschelcompilation. Magnum wagten durch die Tochter des Gitarristen Tony Clarkin diesen Schritt. Oftmals braucht es wohl die Überredungskunst der Frauen. Ja, nennt mich Pantoffelheld, gewiss wissen wir exakt wie man die Gunst der Frauen zu unseren Gunsten umlenkt oder etwa nicht?

Wie auch immer, die Epic Rocker haben hier wahrlich eine tolle Ansammlung von klassischen Rocksongs ihrer Karriere neu eingespielt und das Endergebnis kann sich sehen lassen. Da kommt nicht uneingeschränkt Freude auf, nein ferner schlägt das Kuschelbarometer komplett aus. Wenn schon Love Songs, dann wirklich aus der Feder dieser Herrschaften. Vom Fleck weg reißen einen diese in den Sog mit und man wird wahrlich von warmen Wellenschlägen umzogen.
Kann sicherlich sein, dass hier der Kitsch trieft, indes tut es hier scheinbar an und ab ebenfalls. Im Gegensatz zu anderen Kapellen verstehen es aber Magnum wie man Liebesschnulzen kreiert und diese nicht vor Schmalz triefen lässt. Nämlich genau mit den von mir fortwährend sehr sehnsüchtig erwarteten, kernigen Beisätzen. Diese sind hier massig vorhanden und somit klingt das Ganze nicht schnulzig. Vielmehr gereift und fürs Gehör absolut wohltuend. Für Fans der Briten freilich ein Blindkauf. Wer allerdings die Combo genauer kennenlernen möchte, sollte doch zu den anderen Klassikern vorerst tendieren. Erst im Nachhinein vielleicht diese Scheibe der ruhigen Songs, sonst kommt offenbar noch das Gefühl auf, die Herrschaften wären nur eine Kuscheltruppe. Dies sind sie einfach nicht, gleichermaßen wenn sie wahrlich tolle Balladen im Gepäck haben.
Anyway, wer hier für einen gemütlichen Abend, mit musikalischer Unterstützung sucht, dies wäre durchwegs ein guter Griff und Tipp.
Tracklist:
01. Dream About You (remastered)
02. Back In Your Arms Again (newly re-recorded)
03. The Valley Of Tears (remixed, remastered)
04. Broken Wheel (newly re-recorded)
05. A Face In The Crowd (remixed, remastered)
06. Your Dreams Won't Die (remastered)
07. Lonely Night (acoustic version, newly re-recorded)
08. The Last Frontier (remixed, remastered)
09. Putting Things In Place (remixed, remastered)
10. When The World Comes Down (new live version)
Besetzung:
Bob Catley (voc)
Tony Clarkin (guit)
Mark Stanway (keys)
Al Barrow (bass)
Harry James (drums)
Internet: