MIST OF MISERY – SHACKLES OF LIFE (EP)
Band: MIST OF MISERY
Titel: SHACKLES OF LIFE
Label: Black Lion Productions
VÖ: 31.08.2017
Genre: Athmospheric-/ Symphonic Black Metal
Bewertung: 4/5
Written by: Maze P.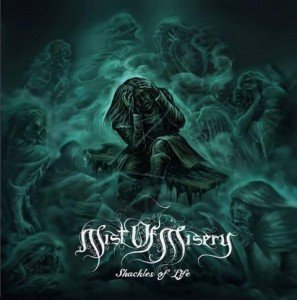 Die aus Stockholm, Schweden, stammende Formation Mist of Misery wurde ca. 2010 gegründet bzw. trat mit deren Erstveröffentlichung "Bleak Autumn 2010″ in Form einer EP ins Rampenlicht des Athmospheric Black Metal. Bereits ein Jahr später erschien das erste Full-Lenght Monster "Bleak Autumn 2011″ und nun nach 2 weiteren EP´s und einem Full-Lenght Album 2016, halte ich deren neuestes Werk, eine 7-Track EP in Händen, die allerdings so manche Band auch als Full-Lenght Scheibe veröffentlichen würde. Vor allem, weil 2 der sieben Songs mit Überlänge und der Rest in "normaler" Spiellänge auf den geneigten Hörer hereinprasseln. Sicher, 3 Stücke sind Instrumentalstücke, aber auch die sind 2 Minuten lang. Nur will ich hier nicht über die Quantität, sondern über die Qualität von "Shackles of Life" reden…
Und diese ist mehr als nur vorhanden. Eine EP, die es in sich hat. Ich selbst bin jetzt zum ersten Mal mit den Schweden in musikalischen Kontakt getreten. Werde es aber schleunigst nachholen, mir auch die restlichen Werke der Band reinzuziehen. Ganz sicher! Warum?
Weil es die Musik vom ersten bis zum letzten Ton schafft, mich gefangen zu nehmen. Die EP lief ohne Unterbrechung durch und dann auch gleich ein 2. Mal. Die Athmosphäre, die Mist of Misery erzeugen, klingt wunderbar nach Kälte mit viel, viel Gefühl. Der Pianosound und die Streicher stehen ganz klar im Vordergrund, die Gitarren wurden zeitweise hintenan platziert, was dem Gesamtsound nicht schadet. Harte Riffs brechen auf wunderschöne melodische Klänge, die einem das Herz aufgehen lässt. Sehr, sehr schön.
Natürlich handelt es sich um Underground. Somit auch um die typische Produktion. Treiblelastige Gitarren, harte Stimmen und eigentlich eine miese Produktion, auch weiß man nie so genau, ob die Drums echt sind oder nicht, aber bei den songwriterischen Fähigkeiten ist mir das ziemlich schnuppe.
Das einzige, was mich wirklich, wirklich, wirklich tierisch nervt, ist die Umsetzung der Streicher. Natürlich kann sich nicht jede Band ein Orchester ins Studio holen, aber, meine Güte, Leute, wir sind im 21. Jahrhundert! Da gibt es schon verdammt gute MIDI- Instrumente, die kaum einen Unterschied hören lassen. Cubase z.B. bieten eine Flut an solchen Instrumenten. So mal als Anregung… Denn die Streicher klingen so mies im Sound, dass es einfach in den Ohren weh tut. Da zerreisst es mir das Herz. Unglaublich! Darum gibt es auch nicht die Höchstnote. Und nur darum!
Sonst ist "Shackles of Life" aber eine höllisch-gute Scheibe, die jeder Genre -Fan kennen sollte und sich auch gerne offiziell zulegen darf! Und vor allem schnell, da die Scheibe auf 400 Kopien limitiert ist. Meine Empfehlung hat die Band! Daumen hoch! Rock on!
Tracklist:
01. Shackles Of Life
02. Placid Drowning
03. Broken Chains
04. A Dreamless Void
05. Dagon
06. Opening Chapter To A Solitary Confinement
07. Closing Chapter
Besetzung:
Mortuz Denatus – Vocals, Keys, Programming
Phlegathon – Guitar
Livsnekaren – Drums
Damian – Bass
Internet: