Band: Mystery Blue
Titel: Conquer The World
Label: Road Show Productions
VÖ: 2012
Genre: Heavy Metal
Bewertung: 4/5
Written by: Thorsten Jünemann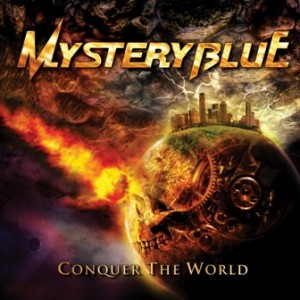 Frankreich 2012. Eine Dame am Mikro. Ein klischeebesessenes Cover. Uwe Lulis (GRAVE DIGGER, REBELLION) ist der Produzent. Lt. Info TRUE HEAVY METAL.
Klingt spannend, sieht gut aus, so weit, so gut die Fakten.
Seit 1984 in der Metalszene unterwegs wollen MYSTERY BLUE wie viele andere Bands auch, der Welt zeigen, dass sie mit ihrem Metal die Welt erobern wollen und ich muss gestehen, dass die 4 auch bei mir einen bleibenden Eindruck hinterlassen haben.
Sound-und produktionstechnisch gibt es überhaupt nix zu mäkeln, das Songmaterial ist auch voll in Ordnung, erinnert teilweise auch an selige NWOBHM-Zeiten. Letztendlich gibt es aber doch hauptsächlich metalmäßig ordentlich was auf die Ohren, doch klingen mir die Drums ein bisserl zu synthetisch.
Die Gitarren sind zu fetten Wänden aufgebaut; man war sehr gut beraten, sich Hr. Lulis und sein Studio auszuwählen.
Das Album läuft bei mir nun das 6.Mal und geht mir immer noch nicht auf´m Keks, was ja schon mal ein gutes Zeichen ist.
Ein klitzekleines Problem habe ich mit dem letzten Song, der in der Landessprache der Band vorgetragen wird. Ein unglaublich guter Song der piano-bestimmt beginnt und sich im weiteren Verlauf steigert, ohne seinen balladesken Anfang aus den Augen zu verlieren aber doch rockt.
Aber da ich auch ein toleranter Tellerrandgucker bin, kann ich damit sehr gut leben, stimmt doch einfach alles, was den Genrefreund´s Herz höher schlagen lässt.
Wenn man auf dem nächsten Album die Drums etwas organischer klingen lassen kann, bin ich auch bereit mehr Punkte zu vergeben, so reicht es diesmal "nur" für 4 / 5 Punkte, womit man aber sehr gut bedient ist.
Und die Empfehlung für Metalfans, MYSTERY BLUE´s "Conquer The World" unbedingt mal anzuchecken.
Tracklist:
01. Conquer The World
02. Innocent Crime
03. Running With The Pack
04. Evil Spell
05. Cruel Obession
06. Ticket To Hell
07. Keep On Dreaming
08. Road Of Despair
09. Behind Those Walls
10. Guardian Angel
11. Accroche-Toi À Tes Reves (bonus track)
Besetzung:
Nathalie Geyer (voc)
Frenzy Philippon (guit)
Matt Gabnai (bass)
Vince Koehler (drums)
Internet: