Red Raven – Chapter Two: DigitHell
Band: Red Raven
Titel: Chapter Two: DigitHell
Label: Fastball Music
Genre: Melodic Rock/Metal
VÖ: 06.10.17
Bewertung: 5/5
Written by: Robert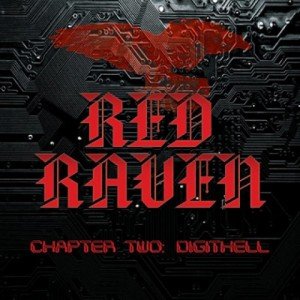 Das saarländische Quintett RED RAVEN sollte man kennen, zumindest haben es einige Szenekollegen von anderen Magazinen dementsprechend tituliert und da muss ich ihnen wohl oder übel recht geben. Zu meiner Schande kannte ich weder die Saarländer noch deren Vorgänger Werk "Chapter One The Principles"! Somit ist "Chapter Two: DigitHell" meine Feuertaufe mit der Band und alle vorab gelesenen Hudeleien kann meine Wenigkeit nur bestätigen, denn man merkt der Band an, dass sie buchstäblich wissen, wie der melodische Rock/Metal klingen muss, ohne anliegend irgendwie zu klischeehaft schmalzig klingt. Die versierte Truppe aus unserem nördlichen Nachbarstaat versteht sich demgemäß als neue, frische Errungenschaft in diesem Bereich. Diesen Orden darf man sich gegebenenfalls mit Stolz auf die Brust heften. Des Weiteren muss man sogleich auf dem Fuße den Sänger erwähnen, da man mit Frank Beck (genau der neue Fronter bei Gamma Ray!) einen ausgezeichneten, Song-prägenden Frontmann dabei hat, welcher die Tracks nach allen Regeln der Gunst mit seinem Organ veredelt. Teilweise erinnert er mich an eine Vielzahl von großen Helden der Szene, persönlich tendiere ich dazu ihn als Mischform von Tony Martin und eine raue Version von DC Cooper einzustufen. Exakt mit diesen markanten Gesangseinsätzen drapiert der Fronter die Tracks von RED RAVEN und dies bringt das Fass schon schier zum Überlaufen.
Rhythmisch ist man gewiss nicht die Neuerfindung, kann im Kontrast dazu viel Staub aufwirbeln und bringt eine Vielzahl an frischem Songfragmenten fürs Gehör zum Einsatz.
"Chapter Two: DigitHell" ist ein reichhaltig gespicktes Genrealbum, welches mit viel Liebe zum Detail geschmiedet wurde. Der Facetten-Reichtum der Truppe hat kein Ende und da bin ich mir sicher, dass wir erst ganz am Anfang sind und mit ihrem neuesten Silberling lassen sie etliche Größen fürwahr alt aussehen. Es mögen Neulinge an sich sein, doch durch ihre überzeugende Kraft rütteln sie gehörig am Thron des Melodic Rock/Metal.
Viele Sachen wird der gute Frank unter Umständen aus dem Gamma Ray Lager als Einfluss mitgebracht haben, zumindest kommt es mir so vor, bekanntermaßen deutet etliches darauf hin und man erinnert sich an gewisse Gassenhauer zwischen "Land of the Free", welches anno dazumal ja der Burner schlechthin war und nach wie vor ist. Anyway, mit RED RAVEN ist man nicht minder ihren Gesinnungsgenossen in allen Belangen ebenbürtig, obgleich um Ecken rockiger.
Fazit: RED RAVEN servieren mit "Chapter Two:DigitHell" ein Megaalbum ab, welches in keiner Sammlung von Melodic Rock/Metal versierten Fanatikern fehlen sollte.
Tracklist:
01. A Perfect World
02. Collapse
03. Dance With A Freak
04. Out Of Memory
05. Proud
06. On My Way
07. DigitHell
08. Running Out
09. Save Me
10. The Best Man I Can Be
11. Unbreakable
12. Until The End Of Time
Besetzung:
Frank Beck (voc)
Patrick Fey (guit)
Bernd Basmer (guit)
Martin Reichhart (bass)
Sebastian Berg (drums)
Internet: