Band: Stefanie
Titel: Stefanie
Label: Escape Music
VÖ: 24.02.17
Genre: Rock/Pop
Bewertung: 3/5
Written by: Robert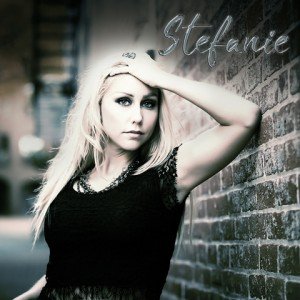 Bei manchen Promotern bzw. Bandunterstützenden Agenturen frage ich mich schon, ob sie nicht ihren Job verfehlt haben. Im Falle von Stefanie aus Pennsylvania beispielsweise! Wie kommt man auf die grandiose Idee der Dame zu sagen, es wäre eine coole Idee die Band nach dem Namen der holden Lady zu benennen und gleich das Album desgleichen noch dazu. Klingt, wenn man es liest für den deutschsprachigen Raum doch nach Schlager nicht wahr? Richtig und meine Wenigkeit dachte vorangehend, das Label will mich veräppeln. Trotzdem wie wenn dies noch nicht genug wäre, des Weiteren das Coverartwork ebenfalls poppig aussehen zu lassen ist ja eine Frechheit gegenüber der Künstlerin und ihrer angestrebten Musik. Hat mit ihrer Musik rein gar nichts zu tun und ist eher hinderlich für einen Erfolg. Damit verliert man zuvor an Boden, welchen man überdies nicht wieder gut machen kann, obwohl das Material deutlich was Anderes ist, als es die Verpackung vorgaukelt.
Nun gut, dass Stefanie Johnson definitiv mehrheitlich im poppigeren Rockbereich agiert mag sicherlich mehr die massentaugliche Fraktion an den Tagesordnungspunkt rufen. Dennoch ist die Abform des Modern/Alternative Rock nicht so schlimm, wie man es vorab erahnen würde. Vergleichbare Roots hat Mr. Johnson ganz klar gesteckt bzw. gelegt. Euch gefällt The Pretty Reckless mit Taylor Momsen? Diese Musik aus der Feder von Stefanie Johnson wäre genau die artgerechte Abwechslung für euch, weil desgleichen ähnliche Soundfaktoren zum Tragen kommen! Nämliche die Tatsache, dass sich die Musik um den Gesang einer Fronterin dreht und die Rhythmik drum herum zusammengebastelt wurde. Mag nach Fahrstuhlmusik klingen, hier und da tut es das auch, demselben stehen dennoch leidenschaftlich mitreißende Soundallüren gegenüber, welche desgleichen den werten Rezensenten bei The Pretty Reckless gefallen. Der astreine Rocker wird dies schmähen wie der Satanist die Kirche. Immerhin, der moderne, wie außerdem Tellerrand guckende Rocker, könnte hier durchaus neues Klangmaterial für sein Gehör finden. Sollte sich somit nicht vom Artwork und Bandnamen beirren lassen.
Für eine Abwechslung gibt es hier eine Vielzahl von ausnehmend schmucken Rocksongs aus dem modernen Artbereich. Mal mehr oder weniger poppiger inszeniert, stellt sich die gute Mrs. Johnson fast durchgehend auf dieselbe Etage wie ihre Kollegin Taylor Momsen.
Fazit: Unter die Rubrik, falsche Herrschaften die der Dame unter die Arme greifen ist die Aufmachung dieses Albums einzustufen. Für eine alltägliche Beschallung des modernen Rockhaushaltes ist das Material aber sehr gut geworden, wenngleich man The Pretty Reckless nicht ansatzweise das Wasser reichen kann.
Tracklist:
01. All I Know
02. Master Of Disguise
03. Stranger
04. Everything You Need
05. Word Man
06. Hello Love
07. One Life
08. In My Shoes
09. The Second Time Around
10. The Song I Was Meant To Write
11. We Will Fight
Besetzung:
Stefanie Johnson (voc)
Paul Franceschini (acoustic guit)
Brian J. Anthony (guit, drums, bass & keys)
Special Guests:
Paul Crook (guit)
Ken Dubman (guit)
Charlie Calv (keys)
Hasan Smith (back voc)
Tonya Price (back voc)
Shekinah Glory Kee (back voc)
Internet: