Band: Decimation
Titel: Reign Of Ungodly Creation
Label: Comatose Music
VÖ: 2014
Genre: Death Metal
Bewertung: 3/5
Written by: Daniel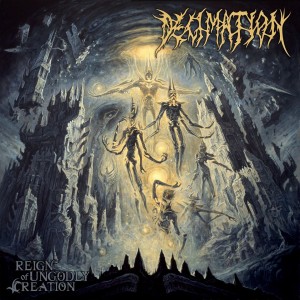 Technical Brutal Death Metal aus Ankara? Sachen gibt`s, die gibt`s nicht… Auffällig neben der Herkunft der Band ist das Dan Seagrave Cover und die Trackliste, mit der man fast schon einen Roman füllen könnte. Jedenfalls ist der Bandname der Türken Programm, denn ohne Kompromisse ballert Noncelestical Orisons Cataclised in the Passage of Ninib mir den Ohrenschmalz aus den Gehörgängen. Erholsam und strukturierter beginnt dann Supreme Wisdom of Blasphemy in the Reign of Ungodly Creation, entspannt lehne ich mich zurück und lausche dem monotonen Gebolze. Kurz vor dem einschlafen hält mich dann Mystic Transformation in Encrypted Scrolls of a Grievous Sermon bei Laune, denn hier wird mal nicht nur stumpf los geprügelt, leider eine Seltenheit auf Reign Of Ungodly Creation. Und so kommt es wie es kommen muss: es wird anstrengend nach Aberrant Ablution by Filthy Excrements of a Grotesque Crassamentum, auch wenn Psalm Carnage in the Ghoulish Chapel of Gehenna noch einmal kurz etwas Hoffnung auf abwechslungsreiche Kost aufkeimen lässt, fast 40 Minuten nur Geholze sind für den Ottonormalmetaller einfach zuviel. Der Technical Brutal Death Metal von Decimation krankt zu sehr an Monotonie, und das macht das am Stück hören von Reign Of Ungodly Creation sehr, sehr schwer. Oder anders ausgedrückt: Ich vermisse hier einfach Abwechslung, das haben ähnlich gelagerte Bands wie Suffocation und Nile besser drauf. Allerdings kommen Decimation aufgrund dieser Tatsache extremer rüber, was Genre Freunden auf jeden Fall zuspielen sollte. Deshalb gilt eine absolute Empfehlung für die Krachfraktion, der Rest sollte einen großen Bogen um diese Metzelorgie machen.
Trackliste:
01. Noncelestical Orisons Cataclised In The Passage Of Ninib
02. Supreme Wisdom Of Blasphemy In The Reign Of Ungodly Creation
03. Mystic Transformation In Encrypted Scrolls Of A Grievous Sermon
04. Aberrant Ablution By Filthy Excrements Of A Grotesque Crassamentum
05. Psalm Carnage In The Ghoulish Chapel Of Gehenna
06. Ghoulish Requiem For A Macabre Daemonarch
07. Prophetic Despise Under The Pendulum Of A Sacrilegious Throne
08. Devilish Domain Vortex In The Gloom Of Wicked Ziggurat
09. Veracity In Relics
Besetzung:
Emre Üren – guitars
Erkin Öztürk – guitars
Goremaster – drums
Decimation im Internet:
ReverbNation