Band: Adramelch
Titel: Opus
Label: Pure Prog Records
VÖ: 22.05. 2015
Genre: Progressive Rock/Metal
Bewertung: 4,5/5
Written by: Daniel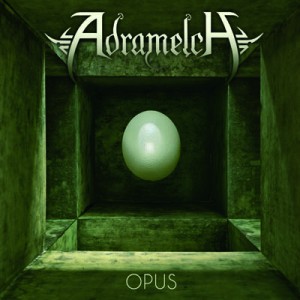 Ein ordentliche Portion Wehmut beschleicht einen beim hören, denn es ist wirklich schade, das sich die Italiener zu Grabe tragen. Begonnen hat die Geschichte ADRAMELCHs mit Irae Melanox, einem der besten und wichtigsten Alben der Metalhistorie. Trotz der Begeisterung von Seiten der Fans und Kritiker folgte kurz darauf die Auflösung.
Damals wie heute blieb der große, kommerzielle Erfolg aus.
Der Grund dafür scheint schnell gefunden: Referenzbands für den potenziellen Käufer zu benennen, fällt schwer. ADRAMELCH sind schließlich selbst eine.
Das es in erster Linie immer das Bestreben der Musiker war, sich vor allem künstlerisch zu äußern, zeigt die Rückkehr 15 Jahre später, die mit Broken Hope (2005) und Lights From Oblivion (2012) zwei weitere Klassiker mit dem bandeigenen Sound hervorbrachte.
Besagter Sound besticht auch auf Opus vor allem durch den melodischen, betörenden Gesang von Vittorio Ballerio, den in den Siebzigern vorrangig verwurzelten, nie überpräsenten Keyboardsounds und der meisterhaften Melodieführung Gianluca Coronas.
Keine andere Band schafft es, so episch mitreizend wie bei Long Live The Son, Northern Lights (mit Simona Aileen Pala von Holy Shire am Gastmikro), As The Shadows Fall oder Trodden Doll zu aggieren. Niemand kredenzt dem Hörer solch` einprägende und dennoch alle Zeiten überdauernde Geniestreiche wie Black Mirror, Pride, Only By Pain oder Forgotten Words.
Somit markiert dieser 66 minütige Opus einen würdigen Schlusspunkt unter einem beispiellosen, musikalischen Schaffen, welches nicht nur Proggies interessieren dürfte. ADRAMELCHs sphärische Klangwelt wird wohl unereicht bleiben.
Trackliste:
01. Black Mirror
02. Long Live The Son
03. Pride
04. Northern Lights
05. Only By Pain
06. A Neverending Rise
07. Fate
08. Ostinato
09. As The Shadows Fall
10. Forgotten Words
11. Trodden Doll
12. Where Do I Belong
Besetzung:
Vittorio Ballerio – vocals
Gianluca A. Corona – guitars
Fabio Troiani – guitars
Sarmax – bass
Sigfrido Percich – drums
Gualtiero Insalaco – keyboard
Adramelch im Internet:
Homepage
ReverbNation