Band: After The Fall
Titel: Dedication
Label: Bride Nine Records/Paper+Plastick
VÖ: 12. Mai 2015
Genre: Punk
Bewertung: 3/5
Written by: Lazer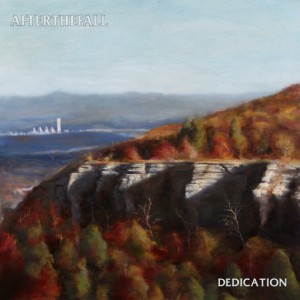 Mit ihrem fünften Album "Dedication" warten die New Yorker Punker After The Fall im Mai diesen Jahres auf. Laut eigenen Angaben bewegen sich die Amerikaner im Bereich des Hardcorepunks. Meiner Einschätzung nach, ist es irgendwas zwischen Punkrock und Skatepunk. Dieses "Hardcore" habe ich vergebens gesucht, ist aber nicht weiter schlimm. Mit zehn Tracks und einer Gesamtspielzeit von knapp über 18 Minuten, ist zwar noch ein wenig Luft nach oben, aber genretechnisch durchaus vertretbar. Man kann der Meinung sein, Musik muss immer innovativ und revolutionär sein, oder Musik darf einfach so bleiben wie sie ist. Im Endeffekt bin ich der Meinung, der/die KünstlerInnen müssen das was sie produzieren gerne machen, dies aus vollster Überzeugung tun und einfach hinter dem stehen, was sie machen. Bei After The Fall hat man definitiv das Gefühl, dass sie einfach ehrlichen 2000er Jahre angehauchten Skatepunk mit purer Leidenschaft machen. Die Jungs verstehen ihr Handwerk und beherrschen ihre Lärmgeräte. Rhythmik und Energie sind auf jeden Fall ausreichend vorhanden. Bei den Melodien könnte man noch hier und da ein wenig nachlegen. Ansonsten fehlen dieser Platte eigentlich nur noch der ein oder andere Höhepunkt. Dedication plätschert eigentlich nur so dahin, ohne wirklich nennenswerte Highlights.
Mein Fazit: Eher zeitloser Hardcore-Skatepunk ohne neu erfunden zu werden aber irgendwie auch doch nicht zu altmodisch oder staubig. Punk-Power ist vorhanden, wenngleich die Highlights etwas fehlen.
Tracklist:
01. Reflection
02. Dedication
03. Elisa
04. Condolences
05. Somehow
06. Twenty Nine
07. Ill Fate
08. Lived Fast
09. Time Will End
10. Indian Ladder
Besetzung:
Mike
Meepy
Ty
Matty V
Internet:
After The Fall Website