Band: House of Atreus
Titel: The Spear and the Ichor that Follows
Label: Dark Descent
VÖ: bereits erschienen
Genre: Death Metal/Heavy Metal
Bewertung: 3,5/5
Written by: Peter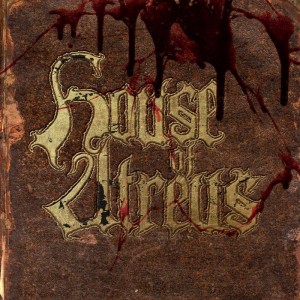 Besondere Mühe geben sich die Herren von House of Atreus nicht, wenn es darum geht, die Werbetrommel für ihr bereits erschienenes Debütalbum The Spear and the Ichor that Follows zu rühren. Zwar verfügt man über eine eigene Facebookseite, aber dort geizt man mit Informationen. So ist nur herauszufinden, dass die Kapelle von Minneapolis, Minnesota, also von God's Own Country aus ihre musikalische Eroberung der Welt startete; weiter ist der Page nur zu entnehmen, dass sie sich aus den Herren Anxietous Nero, Anhedonius Wrath, Vespasian und Orge Thumos zusammensetzt. Herausfinden zu können, wer klampft, wer trommelt oder wer röchelt, ist scheinbar nicht vorgesehen; ich hege aber den schweren Verdacht, dass der Herr, der das Pseudonym Orge Thumos gewählt hat, nicht an den Keys rumdudelt – dann hätte er sich vermutlich Orgel Thumos genannt.
Kommen wird zum Inhalt, den uns die Amis auf ihrem Full-Length-Debüt kredenzen. Um es kurz zu machen, die Rezi-Journaille fand das ganz gelungen und als Lebenszeichen einer Band, die in der Zukunft noch von sich reden machen könnte. Nach der EP Into The Brazen Bull im Jahre 2013 gibt es jetzt also ein erstes Album auf die Ohren, das sich in der Schnittmenge zwischen rifforientiertem US-Metal und melodischem Death Metal bewegt. Teils sind melodische Leads im Stile der Göteborg-Schule zu hören, teils auch ordentlich Druck machende, groovende und zupackende Riffs Marke Metal Church.
Die Musikusse aus Minneapolis präsentieren also ein akustisches Debütmenü, das sich aus attraktiven Bestandteilen zusammensetzt und daher auch schon recht eigenständig daherkommt. Woran es noch hapert, ist das noch nicht voll ausgelotete Potential der Mannschaft im Songwriting. Die Zutaten machen eben schon Sinn und Stimmung, aber vieles wirkt noch unplatziert, wenig durchdacht oder einfach beliebig. Es fehlen die griffigen Momente, Riffs, Breaks oder Grooves, die das Herausstechen aus der Masse noch perfektionieren würden. Aber das kann ja noch kommen – ich behalte die Truppe an Schirm!
Trackliste:
1. Trenches of Fortune
2. Messenger of a Shaken Host
3. Throne of Chariots
4. Oresteia – The Unforgotten Scorns
5. Heir to the Crown of Sodom
6. Beasts of Antiquity
7. Veiled in Dignities of Wrath
8. The River Black
Besetzung:
Anxietous Nero
Anhedonius Wrath
Vespasian
Orge Thumos
House of Atreus im Internet:
House of Atreus @ Bandcamp