Band: Ahab
Titel: The Boats Of The Glen Carrig
Label: Napalm Records
VÖ: 28.08.15
Genre: Funeral Doom
Bewertung: 4/5
Written by: Thorsten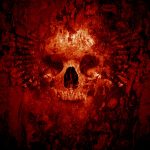 Auf dem 4. Studioalbum widmen sich die "Nautik-Doomer" AHAB dem Roman "The Boats Of The Glen Carrig" von William Hope Hodgson, dessen Inhalt eigentlich schon andere Bands hätte textlich beeinflussen können, doch sind AHAB wohl diejenigen, die das wohl eindeutig hörbar am besten drauf haben.
Auch wenn sie dabei einige Schlenker auf ihrer musikalischen Exkursion einlegen, welche die Band aber verdammt gut meistert…
Es wird mit ausladenden progressiven Parts gespielt und man könnte behaupten, die Jungs haben ein bissl Spaß am Death Metal gefunden. Nein, der bandeigene Sound wird zu keiner Zeit "verraten", aber die Spielereien sind schon so gesät, das man wohl zukünftig auch nicht mehr auf diese Bereicherungen verzichten möchte.
Der Grundtenor heißt immer noch zähflüssiger Nautik Doom Metal, aber die Ausflüge in den Post Rock oder gar in Sludge Rock Gefilde stehen der Band sehr gut. Evolution?
Großartig, ohne seine Basis zu vernachlässigen. Das gelingt nicht vielen Bands. Dazu gelingt es den Deutschen, die Geschichte musikalisch dermaßen gut umzusetzen, das man sich manchmal selbst wie einer der Schiffbrüchigen fühlt…(SPOILERALARM!!!) 😉
Atmosphärisch, (für AHAB Verhältnisse-) sehr abwechslungsreich und sauber produziert. Im Songwriting steckt noch ein bissl Luft nach oben, aber bei 4 von 5 Punkten muss ich doch nicht gleich über die Planke gehen, oder?
Tracklist:
01. Yet Another Raft of The Medusa (Pollard's Weakness) 12:40
02. The Divinity Of Oceans 11:03
03. O Father Sea 07:07
04. Redemption Lost 10:25
05. Tombstone Carousal 07:27
06. Gnawing Bones (Coffin's Lot) 10:48
07. Nickerson's Theme 08:06
Besetzung:
Daniel Droste (voc, guit & keys)
Christian Hector (guit)
Stephan Wandernoth (bass)
Cornelius Althammer (drums)
Internet:
Ahab Website
Ahab @ MySpace