Band: Alestorm
Titel: Sunset On The Golden Age
Label: Napalm Records
VÖ: 2014
Genre: Pirate Metal
Bewertung: 4/5
Written by: Lex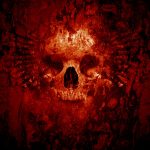 ALESTORM sind mit ihrer Piratenshow schon immer an mir vorbeigesegelt. Damit reihen sie sich in die illustre Reihe von Bands ein, die zwar schon seit Jahren in aller Munde sind und längst unbestrittenen Headliner-Status genießen, aber trotz alldem höchstens gelegentlich und nebenher mal von mir gehört worden sind.
Vergleiche zu vergangenen Alben sind mir also schlecht möglich. Allerdings krächzen geschwätzige Papageien von den Masten, dass die Enterschreie der Schotten sich weiterentwickelt hätten und so manche Landratte sich erst ein bisschen daran gewöhnen muss. Nach einigen überschaubaren Durchläufen scheinen ALESTORM aber auf allen bisherigen Häfen weiterhin erfolgreich anzudocken.
Ich vernehme auf "Sunset On The Golden Age" jedenfalls genau das, wofür ALESTORM in meiner groben Erinnerung immer schon gestanden haben. Mit Piratenimage getränkter, mit diversen Arrangements aufgepeppter -aber nicht darin ertränkter- Metal, bei dem der Spaß-und Liveshowfaktor im Vordergrund steht. Gerade der Spaßfaktor soll hier im Vergleich zu früheren Alben mehr in den Vordergrund gerückt sein; aber das kann ich nicht beurteilen.
Die Highlights auf dem Album sind für mich ganz klar die mainstreamträchtigsten: Da wären einmal das Partybesäufnisliedchen "Drink", das durch das Musikvideo schon vor Albumrelease die Runde machte.
Dann wäre da noch das Cover von "Hangover": Die Piraten haben aus dieser allgegenwärtigen Radionummer erfolgreich eine eigene Nummer gemacht, die viel besser funktioniert als das Original und richtig Spaß macht.
Die anderen Songs sollten alle bis dato bereits treuen Matrosen kaum enttäuschen. Ich werde wohl nie begierig auf die nächste ALESTORM warten, erkenne aber an dass die Piraten ihr spezielles Ding hervorragend durchziehen. Es ist nicht mein Ding, aber es funktioniert bei anderen umso besser.
Tracklist:
01. Walk The Plank
02. Drink
03. Magnetic North
04. 1741 (The Battle of Cartagena)
05. Mead from Hell
06. Surf Squid Warfare
07. Quest for Ships
08. Wooden Leg!
09. Hangover
10. Sunset on the Golden Age
Besetzung:
Christopher Bowes (Vocals)
Keytar Dani Evans (Guitars)
Gareth Murdock (Bass)
Elliot Vernon (Keyboards)
Peter Alcorn (Drums)
Internet:
Alestorm Website
Alestorm @ MySpace