Band: English Dogs
Titel: The Thing With Two Heads
Label: Candlelight Records
VÖ: 2014
Genre: Hardcore Punk/Trash Metal
Bewertung: 2,5/5
Written by: Lazer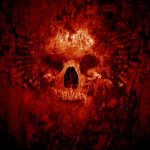 Nach einer Ewigkeit von gut 20 Jahren verirren sich die britischen Haudegen von English Dogs wieder mit einer neuen Scheibe an die Öffentlichkeit.
Das neueste Werk der Herren hört auf den Namen "The Thing With Two Heads". Das Artwork des Covers könnte durchaus noch aus der Zeit der späten 1980er Jahre von einem Horror-Videogame von Nintendo stammen. Also hier gab man sich nicht wirklich viel Mühe.
Nichts desto Trotz, hauen die Jungs von English Dogs ordentlich rein auf dieser Platte. Mit einer Mischung aus Punk, Hardcore Punk und Trash Metal zelebrieren die Engländer auf den knapp über 40 Minuten ein Crossover-Festival sondergleichen.
Nach dreimaliger Auflösung und Wiederverinigung und gut 30-jähriger Präsenz, scheint es aber fast so, als fehle ein klein wenig die Motivation und die Innovation. Auf alle Fälle haben die englischen Hunde es aber immer noch drauf, Sauflieder hinauszuprügeln. Auch verstehen sie sich immer noch auf provokante und böse Texte (Hate Song, Freak Boy).
Von manchem Song auf The Thing With Two Heads könnten sich gestandene Punkbands noch eine Scheibe abschneiden. Die Jungs haben mit "Planet Of The Living Dead" nämlich auch einen richtig tollen Punk Höhepunkt auf ihrem neuen Album.
Alles in Allem klingt das neueste Werk von den English Dogs nicht schlecht, phasenweise recht gut sogar, jedoch hatte ich beim Hören der Scheibe dann aber doch ein wenig die Frische und Cleverness vermisst.
Die Tracks sind wenig ausgefeilt und doch eher einfach gehalten. Mit dem Letzen – zehn minütigem Metal-Versuch – "Down With The Underdogs" bin ich mir nicht ganz sicher, ob sich English Dogs hiermit einen Gefallen getan haben. Sehr schwermütig kommt der Track nicht wirklich ins Rollen, kann nicht so wirklich mitreissen oder überzeugen.
Nach 30 Jahren Musikgeschäft, mehrmaligem Auflösen und Wiedervereinen, melden sich English Dogs wieder zurück im Leben, jedoch mit etwas Anlaufschwierigkeiten.
Tracklist:
01.Turn Away From The Light
02.Freak Boy
03.Gorgonized
04.Hate Song
05.Ghost Note
06.Up From The Depths
07.The Thing Will Arise
08.Planet Of The Living Dead
09.Royal Flying Corpse
10.Rectify
11.Down With The Underdogs
Besetzung:
Drums: Andy Pinching
Vocals: Adie Bailey
Guitar: Giz Butt
Bass: Craig Christy
Guitar: Ryan Christy
Internet:
English Dogs @ Facebook
English Dogs @ Youtube