Band: Alpha Tiger
Titel: Beneath The Surface
Label: Century Media Records
VÖ: 2013
Genre: Power Metal
Bewertung: 5/5
Written by: Thorsten Jünemann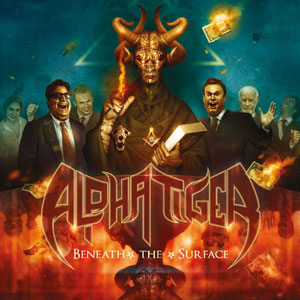 ALPHA TIGER haben ihre Hausaufgaben gemacht und legen mit "Beneath The Surface" einen amtlichen Nachfolger zum 2011 erschienenen Debüt "Man Or Machine" nach.
Hat man ihnen damals noch leichte Parallelen zu Queensryche und anderen US Metalgrößen nachgesagt, so haben sie dies jetzt ausgemerzt, bzw. verbessert und wandeln dabei auf bestem Pfad, selbst eine Größe in dem Genre zu werden und der Musikwelt langanhaltend bewahrt zu bleiben.
US Metal wie er derzeit nicht mal aus den USA kommt, zelebriert von 5 Jungspunden, die höchstwahrscheinlich selbst alle noch Fans des Genre sind, ihre musikalische Vorliebe unglaublich schön und gekonnt huldigen und sich hinter Größen wie Malice, Queensryche und manchmal auch Iron Maiden nicht verstecken müssen.
Die Jungs können etwas bewegen und mausern sich von Album zu Album vom Undergroundact zu einer Szenegröße, deren Ausmaß noch nicht abzusehen, aber auf gutem Weg ist, das Erbe der Großen anzutreten.
Das Album ist stark genug, um die letzten künstlerischen Schrecken der sog. Großen in den dunkelsten Schatten zu stellen, denn hier wird frisches Metal-Karma versprüht und was bleibt: 5/5 einfach nur METTTÄÄLLLLLLLLLLLLLLLLLLLLLLLLLLLLL!!!!!!
Tracklist:
01. Intro
02. The Alliance
03. From Outer Space
04. Waiting For A Sign
05. Beneath The Surface
06. Along The Rising Sun
07. Eden Lies in Ruins
08. Rain
09. Crescent Moon
10. We Came From The Gutter
Besetzung:
Stephan Dietrich (voc)
Peter Langforth (guit)
Dirk Frei (bass)
Alexander Backasch (guit)
David Schleif (drums)
Internet:
Alpha Tiger Website
Alpha Tiger @ MySpace