Band: Angarthal
Titel: Uranus And Gaia
Label: Asgardh Music/Bakerteam Records
VÖ: 29. April 2016
Genre: Melodic Heavy Metal
Bewertung: 5/5
Written by: Lazer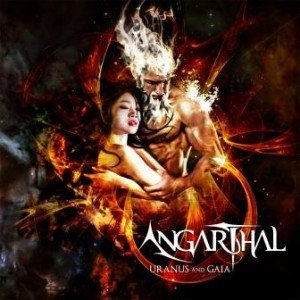 Steve Angarthal – seines Zeichens umtriebiger Musiker in diversen Bands (Fire Trails, Angarthal,…) und Projekten (Pino Scotto, Rezophonic,…), veröffentlicht Ende des Monats sein Debütalbum "Uranus And Gaia" seines neuen Soloprojekts Angarthal.
Die Liste der Veröffentlichungen Steve Angarthals sind beachtlich, nicht minder, sein Mitwirken in diversen Nebenprojekten anderer Musiker, geschweige denn seine Erfahrung in Punkto Live-Auftritte (Deep Purple, R.J.Dio, Iron Maiden oder Glenn Hughes,…).
Nun erfreut uns der Heavy Rocker aus Italien mit einem seiner neuesten Ideen. "Uranus And Gaia" heißt das Debütalbum und der Bandname ist einfach, kurz und prägnant – Angarthal.
Knapp über eine Stunde begeistert Angarthal uns mit teilweise sehr tollen, teilweise aber sehr bombastischen Arrangements. Auf den 13 Songs gibt es immer wieder aufs Neue ganz geniale Details zu entdecken und erhören. Die Arrangements beinhalten nicht nur schnelle Riffs, eingehende Melodien und punktgenaue Vocals, sondern haben auch sehr gefinkelte orchestrale Unterstützung an Board.
Klingt erstmal ziemlich viel, ist aber wirklich alles absolut perfekt dosiert und auf einander abgestimmt. Es gibt hier keinen einzigen Song, den man als mangelhalft oder langweilig einstufen könnte. "Uranus And Gaia" ist ein durch die Bank gelungenes Stück Heavy Metal mit sehr melodischen Fragmenten.
Mein Fazit: Angarthal präsentiert sich mit "Uranus And Gaia" in der aboluten Weltklasse des Melodic Heavy Metals. Teilweise könnte dieses Album auch im Power Metal-Segment zu Hause sein. Der Italiener presst hier eine Stunde voller Hörgenuss auf die Scheibe. Die Tracks haben sowohl Power als auch Feingefühl, bestechen durch ausgefeilte Arrangements und gehen super leicht ins Ohr. Einsame Spitze!
Tracklist:
01. Punch
02. Uranus And Gaia
03. Morrigan
04. Sailing At The End Of The World
05. Leviathan Rising
06. Holy Grail
07. Miles In The Desert
08. Unbroken
09. The Abyss Of Death
10. Wielders Of Magic
11. A Lie
12. After The Rain
13. Losing My Direction

Besetzung:
Steve Angarthal – Vocals, Guitars
Mauri Belluzzo – Keyboards
Angelo Perini – Bass
Luca Saja / Sergio Pescara – Drums
Internet:
Angarthal Website