Band: Anneke Van Gisbergen
Titel: Drive
Label: InsideOut Music
VÖ: 2013
Genre: Alternative Rock / Metal
Bewertung: 5/5
Written by: Thorsten Jünemann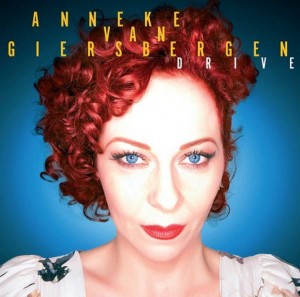 Also…..
Wer jetzt "Back To The Roots"-Gänge von Fr. Van Giersbergen erwartet hat, oder eine Fortführung des Vorgängeralbums "Everything Is Changing" ersehnt hat, liegt total falsch!
Nein, sie macht jetzt keinen Sprechgesang (klänge aus ihrem Mund bestimmt auch interessant!)…
Goldkehlchen legt mit "Drive" ein unbesorgt nach vorn hardrockendes Album vor, welches garantiert nicht nur Hollands Radiostationen zum Glühen bringt!
Ewig-Nörgler könnten hervorbringen, dass es nun mit dem Abwechslungsreichtum vorbei ist, doch kann ich dazu nur argen, dass straighte Rocknummern der Lady genauso gut stehen, wie es der Großteil des Albums auch beweist.
Eingängig, melodiös, einen leichten Hang zum alternativen melancholischen Pop und sonnenscheinverbreitend, knüpft Anneke an ihr Vorgängeralbum an, legt aber diesmal viel Wert auf Radiotauglichkeit anstatt auf Abwechslung, was nicht heißen soll, dass das Album langweilig ist. Eher im kurzweiligen Gegenteil wird sauber produziert gerockt und verbreitet in beinahe jeder Lebenssituation beste Laune! Der Titelsong z.B. verleitet einen dazu, den Fuß überhaupt nicht mehr vom Gaspedal zu nehmen…
Trotz Kind und den vielen Gastspielchen bei DEVIN TOWNSEND (der weiß genau warum er sich Anneke zu sich holte!!!), schafft es die Holländerin alle Fans mit ihrem neuen Album glücklich, bzw. happy zu machen, denn so ganz ohne die Vergangenheit musikalisch zu erwähnen oder zu huldigen, geht es bei Anneke doch nicht! Der Song "Mental Tan" hätte auch auf einer "The Gathering" Scheibe sein können, mit seinem leicht düsteren Aufbau und dem orientalischen männlichen Gastgesang…
Kurzum:
Alles richtig gemacht! Vorfreude auf Live-Dates ist riesengroß und alles in allem mind. 5/5 Punkte sowie der Blindkauf-Empfehlung wert!
Tracklist:
01. We Live On
02. Treat Me Like A Lady
03. She
04. Drive
05. My Mother Said
06. Forgive Me
07. You Will Never Change
08. Mental Jungle
09. Shooting For The Stars
10. The Best Is Yet To Come
Besetzung:
Anneke van Giersbergen (voc & guit)
Gijs Coolen (guit)
Ferry Duijsens (guit)
Joost van Haaren (bass)
Annelies Kuijsters (keys)
Rob Snijders (drums)
Internet:
Anneke Van Gisbergen Website
Anneke Van Gisbergen @ Facebook
Anneke Van Gisbergen @ Twitter