Band: Death Mentality
Titel: Nation Of Defilement
Label: Burnside Records
VÖ: 2013
Genre: Death / Deathcore
Bewertung: 4/5
Written by: Shervin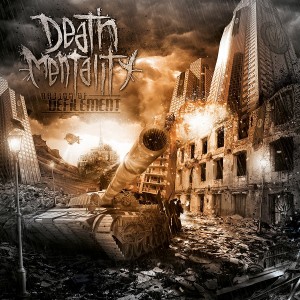 Brutaler Death Metal trifft auf modernen (x)-Core Metal – Death Mentality hat mit ihrem Album Nation of Defilement eine ziemliche Watsche ausgeteilt von der ich mich zuerst mal erholen muss!
Es fängt heavy und langsam mit den ersten Minuten von "Awakening" an, da wird aber dann schon schnell bei "Nation of Defilement" auf die Einmischung von Melodien umgestellt, die das ganze Album durch für das gewisse Etwas sorgen. Breakdowns bringen dann nochmal ein wenig mehr Härte zwischendurch.
"Obey the Sign" zeigt dann das Gesang zu dieser Musik durchaus dazu passt – da singen als Gäste halt Daniel Fellner (Devastating Enemy, Toyhead) und Bernd "Bernth" Brodträger (Ex Belphegor, Bled Dry) mit – aber ich würde mir das in mehr Nummern wünschen. Vocalist Patrick Kubin zeigt in vielen Nummern dass er das Zeug dazu hätte. Gut ist trotzdem dass es in den anderen Liedern durchaus auch melodischere Einflüsse bei den Vocals gibt.
Was Death Mentality aber wirklich hervorhebt ist dass sie es schaffen, die bekannten Formen zu brechen und nicht in eine Wiederholung von sich selbst hineinfallen. Jede Nummer auf dem Album bietet was Neues – teilweise auch unerwartete Wendungen die aber gut funktionieren. Die Gefahr, wie noch eine Deathcore Band von vielen zu klingen, haben Death Mentality gebannt.
Von den melodischen Einflüssen würde ich gerne noch mehr hören bzw. könnten die auch ruhig ein wenig lauter reingemischt werden. Insgesamt finde ich aber die Scheibe gut gelungen und in sich stimmig. Zusätzlich muss ich mal auch ein Wort über das Artwork verlieren: der CD Inlay und das Booklet sind wirklich fantastisch!
Definitive Kaufempfehlung und noch besser: Death Mentality bei Gelegenheit Live erleben!

Tracklist:
01. Awakening
02. Nation of Defilement
03. Agent of Chaos
04. Obey the Sign
05. Path of the Weak
06. Possessed by Demons
07. Last Sunset
08. Blighttown
09. Dissolving Existence
10. Genesis of Despair
Besetzung:
Patrick Kubin – Vocals
Rene Sulzer – Guitar
Thomas Trausmuth – Guitar
Lukas Kager – Drums
Klaus Unger – Bass