Band: Archgoat
Titel: Heavenly Vulva (Christ's Last Rites)
Label: Debemur Morti
VÖ: 2011
Genre: Black Metal
Bewertung: 2,5/5
Written by: Heimo Zlöbl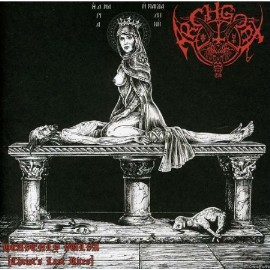 Die finnischen "War Black Metaller" ARCHGOAT bringen neben erst 2 Full Length Alben seit 1989 die EP "Heavenly Vulva (Christ's Last Rites)" an die Öffentlichkeit.
Mit dem Gesang (das irgendwie an die schlechten Urväter des Grindcores erinnern soll) kann ich mich auch nach mehrmaligen Durchhören nicht anfreunden.
Musikalisch bieten die groovigen Gitarren und fetten Blasts abwechselnd mit sehr feinen Midtempo-Passagen durchaus hörbaren schwarz gefärbten Todesb(r)lei, besonders hervorzuheben wären die Songs "Penetrator of the Second Temple" und "Day of Clouds" die das Pontential der Band zeigen. Die restlichen 3 Songs und das eher fade Intro geht im unteren Mittelmaß unter!!!
Tracklist
01. Intro
02. Blessed Vulva
03. Goddess Of The Abyss of Graves
04. Penetrator Of The Second Temple
05. Day Of Clouds
06. Passage To Millennial Darkness
Besetzung
Lord Angelslayer (voc & bass)
Ritual Butcherer (guit)
Sinisterror (drums)
Internet
Archgoat Official Website
Archgoat @ Myspace