Band: Armed For Apocalypse
Titel: The Road Will End
Label: Candlelight Records
VÖ: 2013
Genre: Hardcore Thrash
Bewertung: 4,5/5
Written by: Heimo Zlöbl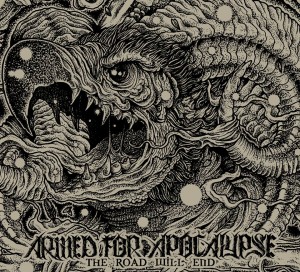 KaWummmmm – ARMED FOR APOCALYPSE aus den Staaten brüllen mit "The Road Will End" ihren zweiten Longplayer ihre Hardcore-Hymnen in die weite Welt – und lassen es ordentlich krachen.
AFA bieten alles, was das Hardcore-Herz begehrt, verzichten bewusst auf Metalcore-lastige, neumoderne Breakdowns und orientieren sich mehr an Soulfly, Crowbar oder auch Pantera.
Der Mix aus den bis ins Endlose gestimmten Gitarren und der hasserfüllten Keife von Sänger Kirk Williams macht das Gefüge von Armed For Apocalypse so eigenständig und interessant.
Hightlights:
The Starting Line Is A Trip Wire
Built To Kill
Worth The Weight
Fazit: ARMED FOR APOCYLPYSE sind das beste Beispiel für modernen Hardcore, der keine Breakdowns und "den neuen Lärm" braucht, und trotzdem nicht zu old-schoolig klingt.
Tracklist:
01. The Starting Line Is A Trip Wire
02. Better World
03. The Well
04. Open Wound
05. Built To Kill
06. The Road Will End
07. Worth The Weight
08. Drawning The Line
09. Happy Hour (Disciples Of Death)
10. Ends Meet
Besetzung:
Cor Vaspra (bass)
Kirk Williams (voc)
Cayle Hunter (guit)
Kirk Williams (guit)
Nick Harris (drums)
Internet:
Armed For Apocalypse @ Facebook
Armed For Apocalypse @ MySpace