Band: Asia
Titel: Resonance
Label: Frontiers Records
VÖ: 2012
Genre: Melodic Rock
Bewertung: 4,5/5
Written by: Thorsten Jünemann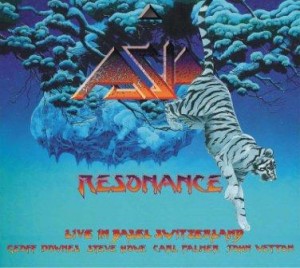 Der 2. Release von ASIA in diesem Jahr.
Diesmal handelt es sich aber um ein Live-Album, während XXX ja ein feines "back to the roots" Jubiläums-Studioalbum war.
Geboten wird nun ein Live-Mitschnitt (ist es doch nicht das komplette Konzert?) aus dem Jahr 2010 in Basel, dessen Tracklist aber keinen der großen Hits missen lässt.
Fans und Freunde der Band werden ihre Freude an der Veröffentlichung haben, stimmt doch der Sound, bzw. die Live-Produktion des Albums (DVD liegt mir leider nicht vor) und alle vorgetragenen Songs der Band (sind auch in deren Karriere ´ne Menge an leicht proggigen AOR/POP ROCK Material) werden nicht langweilig oder gelangweilt vorgetragen. Man hat´s förmlich vor Augen, wie der Spaßvogel Geoff Downes die "Kuh fliegen lässt" und seine Bandkumpel immer wieder dazu anstiftet, die gute Laune innerhalb der Band an das willige Publikum weiterzugeben. Wer ASIA bereits Live erleben durfte, weiß genau was ich meine…
Dazu das typische ASIA Cover Artwork und schon können die Feiertage besinnlich gerockt werden.
Warum allerdings eine Show zur Verfilmung/Vertonung gewählt wurde, die bereits knapp 2 Jahre auf dem Buckel hat und auf der inzwischen 2 Releases folgten, ist mir unklar.
Fakt ist aber, dass das den Hörgenuss nicht trübt und mir der Spaß auch 4,5 / 5 Punkte wert ist.
Tracklist:
01. I Believe
02. Only Time Will Tell
03. Holy War
04. Never Again
05. Through My Veins
06. Don't Cry
07. All's A Chord
08. The Valley Of Rocks
09. The Smile Has Left Your Eyes
10. Open Your Eyes
11. Finger On The Trigger
12. Time Again
13. An Extraordinary Life
14. End Of The World
15. The Heat Goes On
16. Sole Survivor
17. Go
18. Heat Of The Moment
Besetzung:
John Wetton (voc & bass)
Geoff Downes (keys & voc)
Steve Howe (guit)
Carl Palmer (drums)
Internet: