AxMinister – The Crucible Of Sin
Band: AxMinister
Titel: The Crucible Of Sin
Label: Selfreleased
VÖ: 04/05/2018
Genre: Thrash/Heavy Metal
Bewertung: 3/5
Written by: Lex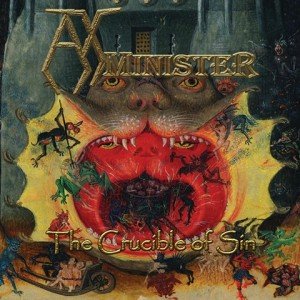 AxMinister bezeichnen ihren Stil als "Theatrical Thrash Metal", was sich vermutlich in der Bühnengewandung begründet, die die Band auf den Promos trägt. Musikalisch lassen es die drei Mannen jedenfalls eher mäßig deftig krachen, sodass man zeitweise durchaus auch im klassischen Heavy Metal Bereich zu Hause ist.
Textlich bedient man sich nach den Mottos "Dumm ist Trumpf" und "Reim Dich oder stirb".
Das äußert sich dann in promilleabhängig lustigen Schenkelklopfern wie "Scream for me to be your god/ I answer with my meaty rod" ("Prey").
Kann man hören, ist ganz nett.
Tracklist:
01. Prey
02. Salvation
03. The Trials Of Hercules
04. The Succubus And The Crucible Of Sin
05. Sanctus Equites Mortis
Besetzung:
Nicholas Klaus (Bass and Vocals)
Liam Maguire (Lead Guitar)
Bas Von Bismark (Drums)
Internet: