Band: Barren Earth
Titel: On Lonely Towers
Label: Century Media Records
VÖ: 30.03. 2015
Genre: Progressive/Doom/Death Metal
Bewertung: 4/5
Written by: Daniel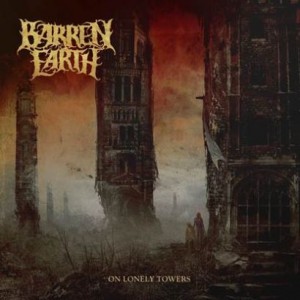 Labelwechsel + Sängerwechsel = Katastrophe?
In den meisten Fällen wären das wirklich herbe Rückschläge, aber nicht bei den Finnen.
Von Peaceville Records zu Century Media Records ist es ja eher ein Sprung nach oben und mit dem Mikko Kotamäki – Ersatz Jón Aldárá macht die Allstar Band ebenfalls einen weiteren Schritt nach vorne.
Die Stimme Aldárás legt in den cleanen Passagen ein gewichtige Schaufel an Intention in die Songs, die eher an alte Doomheroen wie Candlemass erinnern lässt als wie bisher an ältere Opeth! Aber keine Angst, ihren Sound haben Barren Earth weitestgehend beibehalten. Die Progeinflüsse treten auf dem dritten Werk zwar etwas mehr als bisher in den Vordergrund, Amorphis zu Elegy – Zeiten sind hier immer wieder präsent und hinterlassen vor allem bei Frozen Processions, Chaos The Songs Within und Set Alight bleibende Eindrücke!
Aber im Gegenzug würden A Shapeless Relict, The Vault und der Titeltrack neben Opeth auch My Dying Bride sehr gut zu Gesicht stehen.
Insbesondere das Schlussdrittel bietet mit dem fast 12 minütigen Herzstück On Lonely Towers großartiges, episch anmutendes Kino, mit Chaos The Songs Within und meinem absoluten Liebling – dem mit dem Jazz koketierenden Longtrack The Vault – eine homogene, anspruchsvolle Mischung aus 70er Prog, Folk, Death/Doom Metal und dezenten Black Metal Attacken! Eine Mischung, die nicht nur für einen eigenständigen Sound, sondern vor allem für wunderschöne Stunden unter den heimischen Kopfhörern sorgt.
On Lonely Towers ist nicht nur für bisherige Fans der Band empfehlenswert, wer die alten Amorphis Scheiben liebt wird Barren Earth schnell in sein Herz schließen. Aber auch eher traditionell ausgerichteten Doomer (die sich ab und an mal Abwechslung gönnen) sowie Proggies sollten dieses Werk einmal anchecken. Fans älterer Opeth und Swallow The Sun kennen die Truppe eh schon.
Trackliste:
01. From The Depths Of Spring
02. Howl
03. Frozen Processions
04. A Shapeless Derelict
05. Set Alight
06. On Lonely Towers
07. Chaos The Songs Within
08. The Vault
Besetzung:
Jón Aldárá – vocals
Sami Yli-Sirniö – lead guitar
Janne Perttilä – rythymn guitar
Olli-Pekka Laine – bass
Kasper Mårtenson – keyboards
Marko Tarvonen – drums
Barren Earth im Internet:
Homepage