Band: Morgoth
Titel: Ungod
Label: Century Media Records
VÖ: 30.03. 2015
Genre: Death Metal
Bewertung: 3,5/5
Written by: Daniel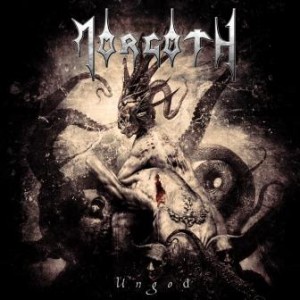 Nach 22 Jahren nun also doch wieder ein Album!
Den schrecklichen Ausrutscher Feel Sorry For The Fanatic zähle ich hier bewusst nicht zur Diskografie Morgoths sondern schiebe ihn angewidert die Kategorie "Stilblüten eines musikalisch grauenvollen Jahrzehnts".
Doch nun wird 5 Jahre nach der Wiedervereinigung und einigen amtlichen Livegigs auch wieder zu Hause der Schädel gespalten. Alles beim alten also?
Na ja, nicht ganz. Was Produktion und Stilistik der Death Metal Urgesteine anbelangt ist alles wie gehabt. Gewonht solide schippert man im Fahrwasser von Benediction, Obituary, frühen Death und Asphyx. Und die kopiert man wohlgemerkt nicht, man gehört seit 1987 zu den Originalen!
Wehmut wird bei einigen wegen dem Sängerwechsel aufkommen, aber Karsten Jäger macht ja bekanntlich auch bei Disbelief einen Klasse Job und fügt sich hervorragend in den Morgoth Sound ein.
Neben dem Instrumental Ungod schießen vor allem Snakestate, Traitor und Voice Of Slumber über die Durchschnittsgrenze. Der Rest bewegt auf dieser Linie, ohne sie zu unterschreiten.
Das sollte Altfans beruhigen, jüngere Genrefans – denen Morgoth unerwarteter Weise immer noch kein Begriff sein sollten – neugierig machen und für Old School Deather als uneingeschränkte Empfehlung gelten.
Auch wenn der Pokal für "Das Comeback des Jahres" wohl bei einer anderen Band in der Vitrine landen wird, Ungod gibt einem das beruhigende Gefühl von Beständigkeit.
WELCOME BACK!!!

Morgoth – Voice Of Slumber (OFFICIAL VIDEO) on MUZU.TV.
Trackliste:
01. House of Blood
02. Voice of Slumber
03. Snakestate
04. Black Enemy
05. Descent into Hell
06. Ungod
07. Nemesis
08. God Is Evil
09. Traitor
10. Prison in Flesh
11. The Dark Sleep
Besetzung:
Karsten Jäger – vocals
Harald Busse – guitars
Sebastian Swart – guitars
Sotirios Kelekidis – bass
Marc Reign – drums
Morgoth im Internet:
Homepage
ReverbNation