Band: Battleroar
Titel: Blood Of Legends
Label: Cruz Del Sur Music
VÖ: 2014
Genre: Epic Heavy Metal
Bewertung: 4.5/5
Written by: Lex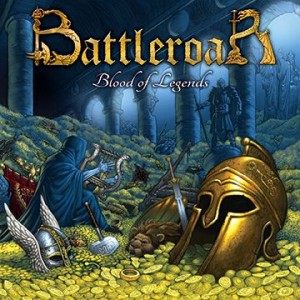 Nach dem vierminütigen, spannungsaufbauendem Intro Stormgiven kracht der perfekte Opener The Swords Are Drawn herein und ich traue meinen Ohren nicht: Höre ich da wirklich die Stimme von Gerrit "Sirens of Metal" Mutz von Sacred Steel, oder klingt der Typ nur so verdammt ähnlich? Nein, er ist es! Allen die ihn damals auf Reborn In Steel vor bald 20 Jahren nicht mochten (Poser!) sei gesagt, dass Mutz den epischen Power/Heavy Metal von Battleroar absolut passend veredelt, ordentlich Gefühl reinlegt und sowieso seine unverwechselbare Stimme seit damals enorm gesteigert hat. Das darauf folgende "Poisened Well" – für mich ein absoluter Hit – kann als Musikvideo probekonsumiert werden und von dieser Tatsache mühelos überzeugen.
Die Tracks auf diesem Album haben durchgehend etwas an sich, das ihnen epischen Soundtrackcharakter verleiht. Das liegt vor allem an der gut integrierten Violine, die gern mal ausgiebig in instrumentalen Passagen zum Einsatz kommen darf, so dass die meisten Tracks sich zwischen 7 und 9 Minuten bewegen. Epic Metal will eben Atmosphäre aufbauen, nicht einfach nur rumrocken und zum Mitgröhlen animieren. Und Atmosphäre bauen die bis auf Mutz durchgängig griechischen Mannen filmreif auf.
Da kriegt man richtig Lust, in Unterhosen, Sandalen, Umhang und Speer dem sicheren Verderben entgegenzumarschieren und einen glorreichen Tod in einer aussichtslosen Schlacht zu sterben…
Nichts für Easy Listener mit ADHS-Aufmerksamkeitsspanne. Aber der Rest, der auch mal mit geschlossenen Augen Zeit für ein paar Minuten epischen Stahls aufzubringen vermag, wird hier Track für Track mit heldisch-metallischem Kopfkino belohnt.
Dauert´s Dir zu lang, bist Du nicht episch genug.
Tracklist:
01. Stormgiven
02. The Swords Are Drawn
03 Poisoned Well
04 Blood Of Legends
05 Immortal Chariot
06 The Curse Of Medea
07 Valkyries Above
08 Chivalry (Noble Armor)
09 Exile Eternal
10 Relentless Waves
Besetzung:
Stavros Aivaliotis (Bass)
Gerrit Mutz (Vocals))
Kostas Tzorsiz (Guitar)
Andreas Sotiropoulos (Guitar)
Nick Papadopolous (Drums)
Alex Papadiamantis (Violine)
Internet:
Battleroar Website