Band: Cloven Hoof
Titel: Resist Or Serve
Label: High Roller Records
VÖ: 2014
Genre: Heavy/Power Metal
Bewertung: 5/5
Written by: Lex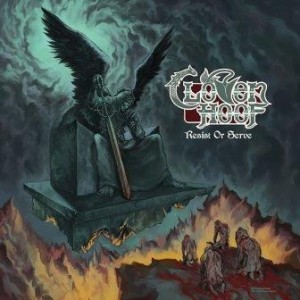 Cloven Hoof sollen als eine der am meisten unterschätzten Bands der NWOBHM gelten, so munkelt es die Runde. Ich habe keine Probleme, diese Aussage als Tatsache zu akzeptieren. Denn die Diskrepanz zwischen der großen musikalischen Klasse dieser Band und ihrer weitreichenden Unbekanntheit ist geradezu sagenhaft.
Und Achtung, hier spricht nicht der Retro-Freund aus mir. Cloven Hoof spielen kristallklaren Metal, aber surfen mitnichten auf der NWOBHM-Retrowelle. Stattdessen gibt es auf Resist or Serve topmodernen Power Metal mit genug Heavy-Anteil, um nicht vor lauter Power zu nerven, der auf natürliche Weise aus der NWOBHM-Saat aufgekeimt ist zu einer spielfreudigen Naturgewalt. Und es dürfte auch in zehn oder mehr Jahren noch äußerst gut klingen, was hier geboten wird. Mir fallen absolut keine passenden Vergleiche ein.
Über dem hier können der mit Trueness zugenähte Kuttenträger und der ordinäre Normalo-Wochenend-Rocker übereinstimmend zuprosten. Weil gut ist einfach gut.
Unbedingt und auf jeden Fall (insbesondere!) die Killer-Tracks Call of The Dark One, Northwind to Valhalla und Premature Burial anspielen.
Randnotiz: Angeblich soll die Reformierung der Band folgendermaßen zustande gekommen sein: Lee Payne nahm seine Gitarre zur Arbeit mit, weil an dem Tag ja eh nichts los gewesen sei. Als sein Chef deswegen Stunk machte, hat er ihm mit der Gitarre eins übergebraten und anschließend Cloven Hoof wieder gestartet. Wie in einem alten Twisted Sister-Musikvideo.
In dem Sinne: Resist Or Serve!
Tracklist:
01. Call Of The Dark One
02. Hell Diver
03. Deliverance
04. Brimstone And Fire
05. Northwind To Valhalla
06. Mutilator
07. Anti Matter Man
08. Cycle Of Hate
09. Premature Burial
10. Austrian Assault
Besetzung:
Joe Whelan (Vocals / Guitars)
Chris Coss (guitar)
Lee Payne – (Bass/ Backing vocals)
Jake Oseland (Drums)
Internet:
Cloven Hoof Website