Band: BEYOND BELIEF
Titel: Rave The Abyss (Re-Release)
Label: Hammerheart Records
VÖ: Dezember 2016
Genre: Death Metal/Doom Metal
Bewertung: 3,5/5
Written by: Peter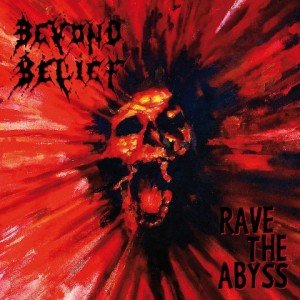 Einen Re-Release gilt es hier zu behandeln: Hammerheart Records hat sich entschlossen, das 1995er-Album Rave The Abyss der niederländischen Doom-Deather Beyond Belief mit einer Neuauflage zu ehren. Mag sein, dass die Truppe, die es seit 2012 nicht mehr gibt, zumindest lokal oder regional so etwas "Kult" war, mir sind bisher zumindest nicht unter die Löffel gekommen.
Was es dann auf dem über zwanzig Jahre alten Rundling zu hören gibt, ist nicht übel, aber reißt mich auch nicht vom Hocker. Die Niederländer machten  räudigen und rumpeligen SloMo-Death-Doom. Der Sänger klingt mal so, als würde er sich gerade ankotzen; an anderen Stellen so, als würde der schon verschimmelte Lemmy seinen Frust darüber, zu Weinachten von uns gewichen zu sein, von seiner Wolke herunter rotzen. Das ist dann aber auch das wirklich herausstechende. Der Rest sind Rumpelsongs in passabler Qualität ohne wirkliche Ausreißer Richung Überhit oder Ausfall.
Tracklist:
01. Rave the Abyss
02. Cursed
03. Blood Beach
04. High on the Moon
05. The Burning of Redlands
06. Crushed Divine
07. The Grand Enigma
08. Tyrants of the Sun
Besetzung:
AJ van Drenth – vocals, guitar
Robbie Woning – guitar
Jacko Westendorp – drums
Ronnie van der Wey – bass
Beyond Belief im Internet: