Band: Bloody Hammers
Titel: Under Satan`s Sun
Label: Napalm Records
VÖ: 2014
Genre: Psychodelic/Doom/Gothic Rock
Bewertung:3,5/5
Written by: Daniel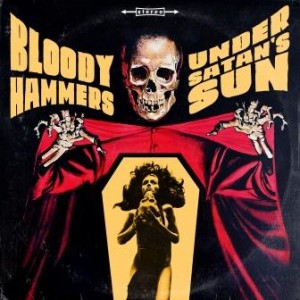 Retro Rock Fans aufgepasst, auch das dritte Album der Band aus North Carolina begeistert mit einen Mix aus Nick Cave und Black Sabbath. Die textliche Thematik ist abermals an Horrorklassiker wie H. P. Lovecraft angelehnt und im Gegensatz zum etwas blutleeren Vorgänger Spiritual Relicts stimmt hier wieder alles was man von einer Band dieses Genres erwartet: eine düstere, morbide Atmosphäre sowie hypnotische Melodien und den einen oder anderen Refrain der hängen bleibt. Auf Under Satan`s Sun sind diese wichtigen Zutaten wie erwähnt zu Hauf vertreten,  insbesondere mit dem Titeltrack, "The Moon-Eyed People" mit seinem betörendem Orgelspiel und das vom Riffing her leicht an System Of A Downs "Toxicity" erinnernde "Dead Man`s Shadow On The Wall" verkörpert die Band ihren Stil perfekt. Sehr intensive Momente beschert einen auch das dynamische "The Last Alarm", während das Highlight "Death Does Us Part" mit viel Gefühl zum träumen einlädt. Das mich zusätzlich mit dem spacigen "Spearfinger", dem herrlich verzerrten "The Moon-Eyed People", dem vor Hooks nur so strotzenden "Welcome To My Horrow Show" und dem groovenden "The Necromancer" fast alle Songs dieses Albums eine Weile begleiten werden, liegt am gelungenen Mix aus Vintage Rock und Dark Wave Einflüssen. Wer also immer noch auf der Retro Rock Welle schwimmt wird hier voll auf seine Kosten kommen. Ich persönlich halte von den meisten Revival Bands nicht viel, aber die Band bietet mit ihren Nick Cave Zitaten durchaus orginelles Futter! Diese sind auf Under Satan`s Sun vielleicht ein wenig zu offensichtlich präsent, aber andererseits wirken Bloody Hammers dadurch arschtight und heben sich vom Gros der Genre Bands ab.
Tracklist:
01. The Town That Dreaded Sundown
02. Spearfinger
03. Death Does Us Part
04. The Moon-Eyed People
05. Second Coming
06. Welcome To The Horrow Show
07. Under Satan`s Sun
08. Dead Man`s Shadow On The Wall
09. The Last Alarm
10. The Nercromancer
Besetzung:
Anders Manga (voc, bass)
Zoltan (guit)
Devallia (org)
Curse (drums)
Mendoza (drums)
Internet:
Offical Website