Bullet – Dust To Gold
Band: Bullet
Titel: Dust To Gold
Label: Steamhammer/SPV
VÖ: 20/04/2018
Genre: Heavy Metal
Bewertung: 4/5
Written by: Lex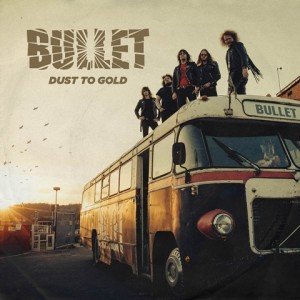 Bullet, die Schweden mit dem Tourbus als Maskottchen, können mit ihrem neuen Album gleich (mindestens!) zwei sofort als Hit erkennbare Nummern vorweisen. Den Titeltrack hätten die alten Accept nicht besser hinbekommen (gut, "Balls To The Wall" vielleicht einmal als Konkurrenz ausgeklammert). Auch "Ain´t Enough" mit seinem AC/DC-artigen Einschlag ist ein weiterer Instant-Kracher in jedem lärmverliebten Ohr.
Über das ganze Album lässt sich eigentlich kein wirklicher Durchhänger ausmachen, sondern es hagelt Power geballt mit einer deftigen Portion Straßen-Attitüde. Die Schweden leben den Metal, und man kann es hören, dass sie dabei Spaß haben.
Wem das nicht zusagt, dem bleibt ja immer noch das Studium der nekrophilen Sigillen im 100seitigen Papyrus-Booklet seiner Lieblings-Post-Black-Misanthropic-Metal-Band.
Tracklist:
01. Speed And Attack
02. Ain't Enough
03. Rouge Soldier
04. Fuel The Fire
05. One More Round
06. Highway Love
07. Wildfire
08. Screams In The Night
09. Forever Rise
10. The Prophecy
11. Hollow Grounds
12. Dust To Gold
Besetzung:
Alexander Lyrbo (Guitars)
Hampus Klang (Guitars)
Gustav Hector (Bass)
Hell Hofer (Vocals)
Gustav Hjortsjö (Drums)
Internet:
Bullet Website