Band: Capilla Ardiente
Titel: Bravery, Truth And The Endless Darkness
Label: High Roller Records
VÖ: 2014
Genre: Doom/Heavy Metal
Bewertung: 4,5/5
Written by: Daniel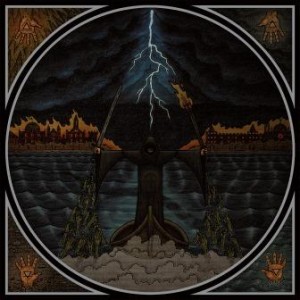 Eingeleitet vom instrumentalen Consequence And Consequences und kurz unterbrochen vom ebenfalls instrumentalen Naufragius entführt man den Hörer – musikalisch passend düster untermalt – in eine magische Welt die lyrisch vorangig Leben, Tod und den Weg zur Selbsterkenntnis thematisiert. Da sich im Line Up der Chilenen mit Felipe Plaza, Claudio Bottaro und Francisco Aguirre ein ehemaliges und zwei aktuelle Procession – Mitglieder wieder finden, dürfte die musikalische Marschroute erahnt werden bevor der erste Ton aus den Boxen tönt. Während Procession mit ihrem zweiten Album für allerhand aufsehen sorgten, wirbelten Capilla Ardiente mit ihren EP Solve Et Coagula vor rund vier Jahren ein wenig Staub im Underground auf. Plaza und Bottaro sehen Capilla Ardiente als vollwertige Band deren Unterschied darin liegt, dass hier Bottaro der Hauptverantwortliche ist, während den bei Procession Plaza gibt. Einen wirklichen Unterschied machen diese Fakten oberflächlich für viele vielleicht nicht aus, doch der Teufel liegt hier im Detail. Sicher kann man hier (wie bei fast allen Doom Metal Bands) die Einflüsse Candlemass und Solitude Aeturnus ausmachen, doch dazu gesellen sich hypnotische, traditionelle Heavy Metal Elemente. Zudem gehen Capilla Ardiente epischer zu Werke, was sich vor allem auf die Laufzeit der vier Hauptsongs niederschlägt. Diese überschreiten alle die zehn Minutengrenze und sorgen mit traurigem, unheilvollem Gesang und magischen Melodien über das gesamte Album für pures Gänsehautfeeling. Während mich Procession "nur" begeistern, sorgen Capilla Ardiente bei mir für die eine oder andere Freudenträne. Bravery, Truth And The Endless Darkness ist pure Magie, beginnend mit dem ersten Riff von Nothing Here For Me zieht es den Hörer bis zu den letzten Klängen von Into Unknown Lands in seinen Bann. Es ist 16 Jahre her, dass ich das letzte Mal solch ein in sich stimmiges, magisches und faszinierendes Doom Metal Album gehört habe.
Tracklist:
01. Consequence And Consequences (Intro)
02. Nothing Here For Me
03. Towards The Midnight Ocean
04. Naufragios (Interlude)
05. They Who Where Lost And Now Are Cursed
06. Into Unknown Lands
Besetzung:
Felipe Plaza Kutzbach (voc)
Julio Borquez (guit)
Claudio Bottaro Neira (bass)
Francisco Aguirre (drums)
Internet:
Capilla Ardiente @ My Space