Band: Change Of Heart
Titel: Last Tiger
Label: Escape Music
VÖ: 22.07.16
Genre: Melodic Rock, AOR
Bewertung: 4/5
Written by: Totti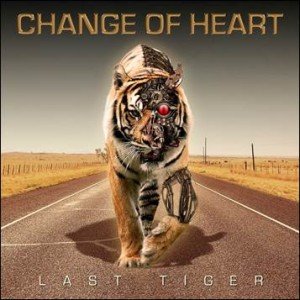 1998 erschien das Debüt, 2005 das letzte Album…soviel zum Thema Arbeitseifer von Change Of Heart die nun aktuell das Album "Last Tiger" veröffentlichen.
Songschreiber / Gitarrist / Sänger und Kopf der Band ist Alan Clark, der auch 2016 nicht von seinem Melodicrock / AOR Kurs abweicht und wieder die Gefolgschaften seliger 80er Jahre beglückt.
"All Killer – No Filler" wäre an dieser Stelle die richtige Bezeichnung, aber wirkliche KILLER sind hier schwer auszumachen…
Das Album plätschert aus meiner Hörweise etwas vor sich hin ohne zu nerven und ein wirklicher verrisswürdiger Ausfall ist auch nicht vorhanden.
Es gibt auch diverse Ohrwurmansätze, aber keiner hält länger um sich nun Gedanken machen zu können, was man sich auf seinen eigenen Sampler für´s Auto, o.ä. kopiert!
Entweder das Album läuft wohlwollend und gute Laune bringend durch oder man lässt es!
Vom Rocker bis zur Ballade ist alles vorhanden, was der geneigte Melodicrocker hören möchte, auch produktionstechnisch gibt es überhaupt nichts auszusetzen.
Aber mir fehlt hier etwas…
Höre ich 4 Alben an einem Tag, habe ich Change Of Heart dabei als erstes vergessen…obwohl es seine Klasse besitzt!!!
Freunde jener Zeit, die unbedingt immer alles haben und kaufen müssen, werden damit bestimmt ihren Spaß haben.
Mir fehlt persönlich fehlt was…
4 von 5 möglichen Punkte
Tracklist:
01. Rise To The Challenge
02. Wayward Son
03. Roads Of My Life
04. March Of The Souls
05. Holy Days
06. Touch Your Souls
07. Hold Onto Love
08. Last Tiger
09. Stone Cold (In Your Eyes)
10. Silent Rage
11. Only Tomorrow
Besetzung:
Alan Clark (voc & guit)
Nick Catterick (guit & voc)
John Sykes (keys & voc)
Jeff Hopkins (bass & voc)
Guest Sam Ogden (drums)