Band: Chronomancy
Titel: Age Of Chivalry
Label: Selfreleased
VÖ: 26.05.2017
Genre: Epic Metal
Bewertung: 2.5/5
Written By: Lex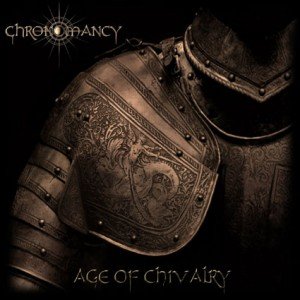 Chronomancy sind griechische Newcomer in Sachen Epic Metal, deren erstes Album 2014 in Eigenregie veröffentlicht wurde.Die ebenfalls ohne Label veröffentlichte "Age Of Chivalry"-EP soll als Vorgeschmack auf ein kommendes zweites Album dienen.
"Emperor Of The Fading Suns" ist ein knapp 50sekündiges Intro, das angemessen stimmungsvoll in das epischmetallische Geschehen einleitet. Was dann folgt, sind überwiegend im mittleren Tempo gehaltene, mit sakralen Keys und Chören aufgepeppte, allesamt eher melancholisch wirkende Nummern.
Könnte voll geil sein, aber: Ist der "March Of The Swordmaster" noch sehr gefällig, nutzt sich das allzu sakral-melancholische Ruhm-und Rittertum der Griechen dann trotz der kurzen Spielzeit rapide ab und macht wenig Lust auf weitere Durchgänge.
Fazit: Ein stimmiges und solides stilistisches Grundgerüst ist vorhanden, dem es aber noch entschieden an abwechslungsreichen und herausstechenden Ideen fehlt, um über das heimische Gefilde hinaus Fans und eventuell Labels zu begeistern.
Tracklist:
01. Emperor Of The Fading Suns
02. March Of The Swordmaster
03. The Once And Future King
04. Percival
05. Death's Head
06. Library Of Oak Trees
Besetzung:
Yiannis Kombatsiaris (Vocals)
Tyrtaeus Kamarinos (Guitars)
Yiangos Sourbis (Guitars)
Thanos "Somber" Dogranlis (Bass)
Chris Zaproudis (Drums)
Mary Sypoula (Keyboards)
Internet:
Chronomancy Website