Band: CIVIL WAR
Titel: THE LAST FULL MEASURE
Label: NAPALM RECORDS
VÖ: 04.11.2016
Genre: Melodic/Power Metal/Metal
Bewertung: 3/5
Written by: Maze P.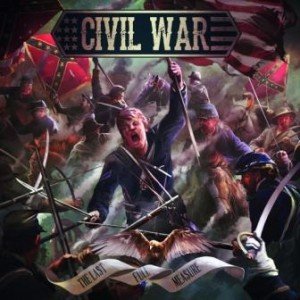 Ich kam mit CIVIL WAR das erste Mal vor 4 Jahren in Kontakt, als die Band ihre erste, noch selbstveröffentlichte EP "Rome is Falling" (2012) auf den Markt schmiss. Da mir diese aber gar nicht zusagte, ließ ich die Band links liegen. Bis jetzt. Die 2012 gegründete, aus Mitgliedern der Band SABATON entstandene Band erging es bis dato richtig gut. Deren 2013 veröffentlichtes Album "The Killer Angels" erlangte in Schweden Gold Status und brachte Ihnen einen Deal mit Napalm Records ein, wo dann die Alben "Gods and Generals" (2015) und eben das neueste Werk "The Last Full Measure" released wurden. Beide Alben schafften in Deutschland und in deren Heimatland Schweden den Sprung in die Charts. Nicht schlecht, Herr Specht.
Was kann denn jetzt das neue Album der Schweden? Sagen wir mal so, sie bemühen sich. Das Album stellt einen variantenreichen Melodic bzw. Power Metal dar, der manchmal 08/15 und manchmal auch ausgefeilter rüberkommt. Gut, die Musiker wissen alle zusammen, was sie können, auch das Songwriting ist gekonnt durchgeführt, aber dieses Power Metal 08/15 Dauerriff, vor allem an den Drums immer wiederkehrend, verringert dann doch stark meine Aufmerksamkeit. War ja alles schon mal da. Wer Powermetal kennt, kennt CIVIL WAR.
CIVIL WAR machen es leider irgendwie 08/15. Da gibt es viele Bands, die das besser hinbekommen. Z.B. Sabaton. Schade. Natürlich wird sich das Album verkaufen wie die warmen Semmeln, denn bei den Songs braucht man nicht lange zu denken, sondern nur den Schädel zu bangen. Kann so nebenbei mitlaufen und die Musikrichtung liegt halt auch im Trend. Und bei der Plattenfirma sowieso… Rock on
Tracklist:
01. Road To Victory
02. Deliverance
03. Savannah
04. Tombstone
05. America
06. A Tale That Never Should Be Told
07. Gangs Of New York
08. Gladiator
09. People Of The Abyss
10. The Last Full Measure
Besetzung:
Rikard Sundén (Gitarre)
Daniel Mullback (Schlagzeug)
Daniel Myhr (Keyboards)
Patrik Johansson (Vocals)
Petrus Granar – (Guitar)
Internet:
Civil War Website