Band: Coffeinne
Titel: Circle Of Time
Label: Fighter Records
VÖ: 15.06.2017
Genre: Melodic Metal
Bewertung: 2.5/5
Written By: Lex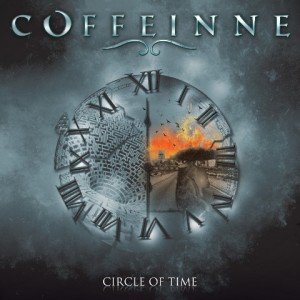 Hier haben wir ein handwerklich gut eingespieltes Debutalbum mit Fabrikationsort Madrid, das mir 52 Minuten lang mit recht gesichtslosem Melodic Metal ganz leicht die Nerven beim Frühstück strapaziert hat.
Die Band agiert bei allen instrumentalen Qualitäten in Stil und Songwriting allzu identitätsfrei, außer wenn dann auch noch auf Teufel-Komm-Raus mittels völlig überflüssiger Screaming Vocals und Growls darauf hingewiesen wird, dass einige der possierlich-melodischen Tierchen in der Freizeit gerne Melodic Death hören.
Um jetzt aber das Kind nicht mit dem Badewasser auszuschütten: Die Band dürfte in engeren Kreisen eingefleischter Melodic Metaller durchaus auf Wohlwollen stoßen, zumal die Spanier bereits jetzt ziemlich professionell agieren. Besagte engere Zirkel sollten sich allerdings nicht zu sehr an den (glücklicherweise nicht ausschweifend oft bemühten) Melo-Death-Anleihen stören.
Für eine breitere Zuhörerschaft jedenfalls fehlt dem Debut noch einiges an Durchschlagskraft und Alleinstellungsmerkmalen, so dass "Circle Of Time" kaum einen Strohhalm aus dem Veröffentlichungssumpf herausragt.
Tracklist:
01. Fragile
02. Fallen Angel
03. Take This Life
04. Isolated
05. Life In A Showcase
06. Save Me
07. Broken
08. No Escape
09. The Hate Within
10. Circle Of Time
11. Life In A Showcase (Orchestral)
Besetzung:
Iñaki Lazcano (vocals)
David Villarreal (guitar)
Sergio Salcedo (guitar)
Alberto Muñoz (bass)
Luis Rodríguez (drums)
Internet: