Band: Conceived by Hate
Titel: Death & Beyond
Label: Morbid Skull Records
VÖ: 04.11.2016
Genre: Death/Thrash Metal
Bewertung: 3/5
Written by: Steppenwolf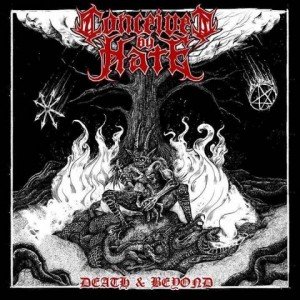 Seit 2002 (damals für ein Jahr noch unter dem Namen "Spiritual Demise") existieren die aus San Salvador stammenden Jungs von "Conceived by Hate". Neben einer Demo und EP gab es im Jahr 2012 den ersten Longplayer "Pestilence Reborn". Nach vier Split-Veröffentlichungen sind sie mit dem zweiten Album "Death & Beyond" am Werk. Für das Quintett aus El Salvador steht temporeicher Death/Thrash auf dem Programm. Einflüsse von "Carcass", "Morbid Angel" und "Obituary" lassen sich nicht leugnen.
Deutlich positiv fällt die Produktion der Scheibe auf, zumal sich der Sound perfekt zwischen Modernem und Old-School befindet. Der Gitarrensound dürfte Fans des schwedischen Death-Metals als Wohlgefallen empfinden. Nach anfänglichen Schwierigkeiten bei Songs wie "Crossroad of Fire" und "Chaos Upon Us", gestaltet sich die zweite Hälfte des Albums deutlich melodischer und abwechslungsreicher. Obwohl es immer gefällt, wenn die Jungs das Tempo anziehen. Bereits bei "The Underdog" legen sie einen Zahn zu und das steht ihnen gut bzw. lässt den Schädel ordentlich kreisen. Die Krönung des Longplayers ist aber eindeutig "Below The Pale Sky". Der Song sticht durch seine Vielfältigkeit heraus. Die Vocals sind immer noch am krächzen aber durchaus emotional. Zum Abschluss geht man mit "Summoning The Graves" und "Death & Beyond" zurück zu den Wurzeln und zieht das Tempo wieder an.
Zwar klingen die Songs oft zu "gleich" aber diverse Ansätze der Abwechslung sind vorhanden, um diesen Output eine Chance zu geben und zu erkunden. "Death & Beyond" ist nicht der Burner der einem ewig in den Bann ziehen wird und kann, aber dennoch ist die Scheibe empfehlenswert. Für die nötige Aufmerksamkeit im schönen Zentralamerika wird es auf jeden Fall sorgen.
Tracklist:
01. Crossroad Of Fire
02. This Is Underground
03. Chaos Upon Us
04. The Underdog
05. We Choose Who Suffers
06. Worship The Old Ways
07. Below The Pale Sky
08. Summoning The Graves
09. Death & Beyond
Besetzung:
C.B. (bass)
R.V. (guit)
M.Q. (voc, guit)
T.M. (keys)
V.K. (drums)
Internet:
Conceived by Hate Website