Band: Conjuring Fate
Titel: Valley Of Shadows
Label: Pure Steel Records
VÖ: 09.06.2017
Genre: Heavy Metal/Power Metal
Bewertung: 4/5
Written by: Peter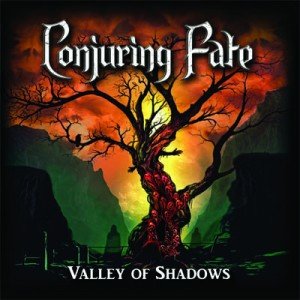 Das da neben dem Text ist das Cover der neuen Scheibe Valley Of Shadows der nordirischen Wahrheitsmetaller Conjuring Fate. Wenn man sich die Scheibe so durchhört, könnte man zuerst vermuten, ob der Riffllastigkeit, dass man es mit einer amerikanischen Truppe zu tun hat. Mitnichten. Die Scheibe bietet durch und durch true Kost für Anhänger amerikanischen geprägten Heavy und Power Metals.
Das heisst die Riffs sind eher drückend als melodisch, der Rhythmus steht im Vordergrund. Dazu ein Sänger der zwar kein Dio ist, aber durchaus einen guten Job macht. Die Songs sind nicht allesamt Hits, aber garantieren schon gepflegtes Bangen am Sonntagnachmittag (oder im Büro wenn man eigentlich arbeiten sollte). Wie immer bei solchen Truppen kann man die fehlende Originalität bemäkeln, aber das ist dann wohl eher Kür als Pflicht.
Tracklist:
01. Our Darkest Days
02. Marching Dead
03. Dr. Frankenstein
04. Land Of The Damned
05. Chasing Shadows
06. A Primal Desire
07. Trust No One
08. Apocalypse
09. House On Haunted Hill (Bonustrack)
10. Mirror Mirror (Bonustrack)
11. Backwoods Witch (Bonustrack)
Besetzung:
Tommy Daly – vocals
Phil Horne Karl Gibson – guitars
Steve Legear – bass
Bogdan Walczak – drums
Conjuring Fate im Internet: