Crematory – Oblivion
Band: Crematory
Titel: Oblivion
Label: Steamhammer/SPV
VÖ: 13/04/2018
Genre: Gothic Metal/Dark Metal
Bewertung: 3,5/5
Written by: Peter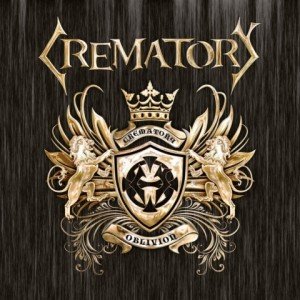 Neues aus Deutschlands beliebtester Düstermetal-Feuerhalle – also von Crematory, nämlich hörend auf den Namen Oblivion. Ich will hier nun gar nicht auf die katastrophisch-komischen Dinge eingehen, die man seiten der Bandzur Veröffentlichungszeit auf Facebook zum Besten gab, hier soll es um die Musik gehen.
Und wo Crematory drauf steht, ist nun mal Crematory drinnen. D.h. man hat jede neue Veröffentlichung der Darkies wohl am sinnvollsten mit ihrem bisherigen Schaffen zu vergleichen. Das ist an sich schon für sich genommen ein erstaunenswerter Befund, da es kaum eine deutsche Kombo geschafft hat, sich eine so eigenständige Soundmarke zu kreiren. Was auch immer man von den Crematory-Sound-Basics nun halten mag.
Wenn man nun aber Oblvivion mit den bisherigen Alben, primär mit der letzten Scheibe Monument aus 2016 vergleicht, ist – zumindest in meinen Ohren – ein Mangel an Kreativität und Umsetzung des eigenen Konzepts zu bemängeln. Schon sind wieder die typischen Kaugummi-Melodien am Keyboard vorhanden, aber über die Gesamtdistanz schleichen sich Hänger ein. Etwa die Songs Until The Dawn, Stay With Me, For All Of Us oder auch Blessed. Alles in allem nicht schlecht, aber zu routiniert. Vielleicht hätte man etwas mehr Zeit und Eifer ins Songwriting stecken sollen. Man kann es ja bekanntlich.
Tracklist:
01. Expectation
02. Salvation
03. Ghost Of The Past
04. Until The Dawn
05. Revenge Is Mine
06. Wrong Side
07. Stay With Me
08. For All Of Us
09. Immortal
10. Oblivion
11. Cemetary Stillness
12. Blessed
13. Demon Inside
Besetzung:
Felix Stass – vocals
Rolf Munkes – guitar
Tosse Basler – guitar
Jason Mathias – bass
Markus Jüllich – drums
Katrin Jüllich – keyboards
Crematory im Internet:
Crematory Website
Crematory @ MySpace