Band: Crystal Ball
Titel: Deja – Voodoo
Label: Massacre Records
VÖ: 02.09. 2016
Genre: Hard Rock/Melodic/Heavy Metal
Bewertung: 4,5/5
Written by: Daniel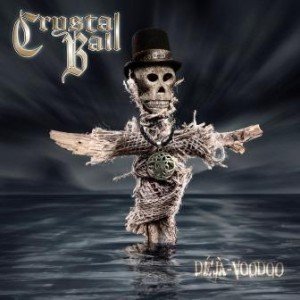 Verdammte Axt, die neue CRYSTAL BALL knallt dermaßen flüssig durch die Lauscher, da braucht man fast schon einen Waffenschein.
Der im vorherigen Jahr erschiene und famose Vorgänger LifeRider verblasst im Vergleich zu DEJA – VOODOO beinahe!
Trve hin, Underground her, es gibt Bands, die werden dem Anspruch, professionell zu agieren, zu einhundert Prozent gerecht und haben eine Klasse, die für sich steht. Das muss selbst ich, als Underground – Apologet, würdigen .
Das gilt für die Schweizer spätestens seit 2000, und der aktuelle Output stellt meiner Meinung nach – trotz der kurzen Veröffentlichungspause – neben HELLvetia und TimeWalker den bisherigen Höhepunkt der mittlerweile 18 jährigen Historie der Band dar.
Das Führungstrio Déjà-Voodoo, Director's Cut und Suspended lässt mit seiner Perfektion in Sachen Hard Rock und teutonisch geprägtem Heavy Metal selbst die U.D.O. – Frühwerke sowie die Großtaten von Def Leppard und Kiss als Referenz zu.
Never A Guarantee erinnert genauso wie Reaching Out an die Mean Machine/Faceless World – Phase des "German Tank", während Home Again eine epische Halbballade ist, der es an Tiefgang nicht mangelt.
Das mit leicht orientalischem Unterton versehende To Freedom And Progress, das trotz aller Melodik mörderisch groovende Time And Tide und der (mit einer großartigen Hook versehene)
Digi – Bonus Full Disclosure bilden fette Hymnen, die man für teutonischen Stahl aus Mitteleuropa im Allgemeinen als Relevanz nennen kann.
Auch die restlichen Lieder überzeugen, wobei Dr. Hell No anhand seiner Vorhersehbarkeit sicher den schwächsten Song darstellt, was aber durch das gefühlvolle To Be With You Once More locker wieder aufgewogen wird.
Bleibt am Ende nur die unbedingte Empfehlung an alle Fans des melodischen, Hard Rock – lastigen Heavy Metals. Viel besser geht es kaum.
Trackliste:
01. Déjà-Voodoo
02. Director's Cut
03. Suspended
04. Never A Guarantee
05. Reaching Out
06. Home Again
07. To Freedom And Progress
08. Time And Tide
09. Without A Net
10. Full Disclosure (Digi Pack Bonustrack)
11. Fools' Parade (Digi Pack Bonustrack)
12. Dr. Hell No
13. To Be With You Once More
Besetzung:
Steven Mageney – Gesang
Scott Leach – Gitarren
Tony "T.C." Castell – Gitarren
Cris Stone – Bass
Marcel Sardella – Schlagzeug
Crystal Ball im Internet:
Homepage