Band: Warfather
Titel: The Grey Eminence
Label: Greyhaze Records
VÖ: 16. September 2016
Genre: Death Metal
Bewertung: 2,5/5
Written by: Peter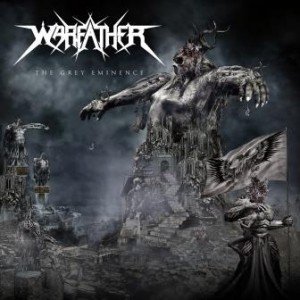 Die Mannen von Warfather, die derzeit ihren neuen Rundling The Grey Eminence dem Metal-Volk näherbringen wollen, nennen ihre Mucke "Apocalyptic Death Metal". Das ist nicht verkehrt, zumindest was den Death angeht – die Scheibe ist lupenreiner rumpelnder Todesstahl älterer Sorte. Dass gerade dieses Genre seinen eigenen herben Charme haben kann, wenn die Chose songwriterisch gekonnt und interessant umgesetzt wird, ist ebenso eine alte Weisheit. Der Kofpschmerz beginnt dann damit, dass bei der Scheibe vom Kriegspapi nur das Rumpeln übrigbleibt. Und das war in der Form eigentlich nicht zu erwarten, da die Kapelle aus Muckern besteht, die aus dem Umfeld von so illustren, altgedienten und begabten Bands wie Morbid Angel und Hate Eternal kommen.
Dass so erfahrene Musiker und Songwriter ein, in meinen Ohren, so uninspiriertes Teil vorlegen, empfinde ich als negative Überraschung. Wenn man sich den Rundling wiederholt zu Gemüte führt, hört man neun Tracks von Rumpel-Riffs und Grooves, die lediglich lieblos aneinandergeheftet und durchgeschrotet werden. Mosh-Parts dazwischen klingen ähnlich daneben. Wie das bei der Mannschaft, noch dazu mit einer wirklich guten Produktion von Erik Rutan (auch aus diesem Umfeld), passieren konnte, ist mir ein Rätsel. Nur die Produktion rettet in meinen Ohren die zweeinhalb Punkte.
Tracklist:
01. Orders of the Horde
02. Headless Men Can No Longer Speak
03. Judgement, The Hammer
04. For Glory or Infamy
05. The Dawning Inquisition
06. Heedless Servant
07. Carnage of the Pious
08. Grey Eminence
09. Fair and Final Warning
Besetzung:
Steven Tucker: Guitar, Vocals
Jake Koch: Guitar
Bryan Bever: Drums
Warfather im Internet: