Band: Cult of The Fox
Titel: Angelsbane
Label: Rock It Up Records
VÖ: 2013
Genre: Heavy Metal
Bewertung: 4/5
Written by: Thorsten Jünemann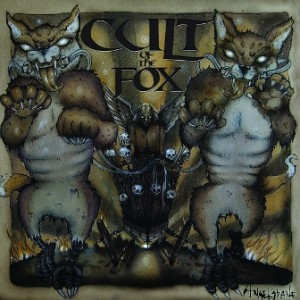 Nach 3 Demos (2007:Kitsunetsuki, 2008:The Power We Serve, 2010:The Sea Beneath The Sand) und dem 2011 veröffentlichten Debütalbum "A Vow Of Vengeance", sind die Schweden nun dabei, Ihr 2.Album in den Metalkosmos zu schießen und die Sterne stehen gut, dass dem noch mehr Gehör geschenkt wird.
Traditionsbewusst marschiert man durch die NWOBHM und True Metal Gasse, bedient sich aber auch dabei an den einen und anderen bekannten Riffs der teutonischen Stahlschmieden.
Aufzuzählen, an welche Bands die Songs erinnern, würde hier zu einem "Who Is Who" der Metalszene führen und letztendlich auch die eigenen Leistungen von CULT OF THE FOX ungerechtfertigt schmälern.
Es ist eine tolle Scheibe geworden, wenn man mal wieder Bock drauf hat, HEAVY METAL zu hören, und sich nicht entscheiden kann, ob es nun ACCEPT, GRAVE DIGGER, SAXON, usw., sein soll!
Christan Lindell (PORTRAIT), Kenneth Jonsson (TAD MOROSE) und Matthias Nilsson (SOILWORK) lieferten als Gastmusiker diverse Beiträge, gemixt und gemastert wurde das Album im Studio Fredman (HAMMERFALL, WOLF, EVERGREY,…) von Fredrik Nordström, aber das ist ja auch nicht immer ein 100%iger Garant für eine hohe Hitdichte, aber einen garantierten Spaßfaktor.
Und den werden Metalpuristen und Freaks an dem Album haben, das zählt letztendlich.
Tracklist:
01. Angelsbane
02. Nine Ones
03. Upon the Throne of Skulls
04. Rising Flames
05. Ready for Eternity
06. Winter Came Silent
07. Black Magic
08. My Wrath Unleashed
09. The Fire
10. The Divine Kill
Besetzung:
Daniel Fritze (drums)
Peter Svensson (bass)
Erika Wallberg (guit)
Magnus Hultman (voc)
Internet:
Cult of the Fox Website
Cult of the Fox @ MySpace