Dawn Of Disease – Ascension Gate
Band: Dawn Of Disease
Titel: Ascension Gate
Label: Napalm Records
VÖ: 11.08.17
Genre: Melodic Death Metal
Bewertung: 4/5
Written by: Jasmin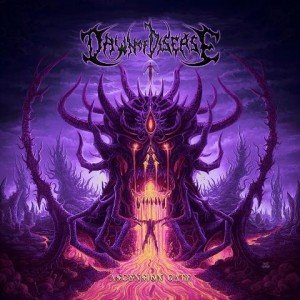 Ascension Gate ist, nachdem Dawn of Disease erst im letzten Jahr ein Album rausgehauen haben, bereits das Vierte – die Deutschen hatten wohl noch zu viel Material übrig.
Der neue Longplayer ist auf jeden Fall sehr hörenswert, nachdem ich mir aber "Worship the Grave" zu Gemüte geführt habe und nun beide Alben vergleichen kann, ist es meiner Meinung nach definitiv etwas ganz Anderes. Wurde am Vorgänger nämlich sogar ein wenig geschreddert und Todesmetall groß geschrieben überwiegt hier nun ganz klar die Melodie.
Die Scheibe kracht zwar auch ganz toll, wenn man sich aber ähnlich wuchtiges Liedgut wie auf dem 2016er Release erwartet wird man gewiss enttäuscht. Ich könnte mir gut vorstellen, dass sie zeigen wollten, dass sie auch gute Musiker sind, nicht nur dumb vor sich hin schreddern können und Gespür für melodisches Gitarrenwürgen haben.
Die Scheibe wirkt als Ganzes aber sehr stimmig und wird Fans des Genres bestimmt überzeugen können, an der Qualität gibt es nämlich gar nichts auszusetzen. Die Songs gehen ins Ohr und lösen zumindest manchmal bestimmt ein "im-Takt-mit-dem-Kopf-nicken" aus.
Tracklist:
01. Passage 2:48
02. Perimortal 4:29
03. Leprous Thoughts 3:20
04. Beneath the Waters 5:32
05. Ascension Gate 5:10
06. Akephalos 4:34
07. Fleshless Journey 6:07
08. The Growing Emptiness 4:19
09. Lucid 4:48
10. Mundus Inversus 9:03
Besetzung:
Tomasz Wisniewski – Vocals
Mathias Blässe – Drums
Oliver Kirchner – Guitar
Lukas Kerk – Guitar
Christian Wösten – Bass
Internet:
Dawn Of Disease Website