Band: DE PROFUNDIS
Titel: KINGDOM OF THE BLIND
Label: Wicker Man Recordings
VÖ: 28.September 2015
Genre: Technical Death Metal/Progressive Doom Metal/Jazz
Bewertung: 4,5/5
Written by: Mayhemer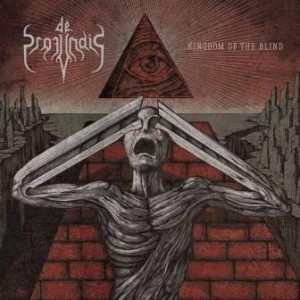 Die aus England stammenden DE PROFUNDIS veröffentlichen diese Tage deren vierten Longplayer "KINGDOM OF THE BLIND". Über die Jahre hinweg haben sich die Jungs vom einstig stilprägenden Doom Metal entfernt und sind nun an einer Stelle angelangt, die dem Hörer auf der einen Seite alles abverlangt und ihm Schweißperlen auf die Stirn treibt und auf der anderen Seite den Hörer in eine genüßlich – lockere Stimmung versetzt.
Ja, was denn nun? Meine persönliche Einschätzung liegt irgendwo zwischen Death Metal, Jazz, Progressive und naja, einer Gitarrenharmonik, die es so erstmal zu schreiben verstanden werden will. So ist es dann auch. Für den Otto – Normal – Verbraucher sind die 10 Songs nämlich gar nichts. Hier wird die Vielfalt in jedem einzelnen der Stücke bis an die Spitze getrieben. Erinnerungen werden wach an Chuck Schuldiner und DEATH, allerdings treiben es DE PROFUNDIS noch ein Stückchen weiter. Die zweistimmige Gitarrenarbeit wurde makellos komponiert und im Zusammenspiel der E- Gitarren, aber auch Akkustikgitarren hört man die Genialität der Musiker.
Manchmal führt es fast schon in Richtung (hervorragenden) Instrumental Progressive Rock. Schräg. Genial. Was mich aber wirklich begeistert, sind die Basslines. Arran McSporran hat es, gelinde gesagt, drauf. Solche Lines müssen erstmal komponiert, ja geschweige denn gespielt werden. Live stelle ich mir das unheimlich schwer vor. Da bin ich mal gespannt. Aber wer solche Soli spielen kann, der wird es auch Live packen. Eben diese Lines, dieses hochintelligente Songwriting stellt klar, dass DE PROFUNDIS zu den Besten gehören. Wie bereits erwähnt, sind die Songs selten für die Maße tauglich, allerdings sind die Musiker so derart geniale Komponisten und Songwriter, dass JEDER ihnen dieses "Perfekt" zusprechen muss, egal ob die Musik nun gefällt oder nicht.
Tracklist:
01. Overture
02. Kult Of The Orthodox
03. Illumination
04. All Consuming
05. Kingdoms Of The Blind
06. Beyond The Threshold
07. A Strange Awakening
08. The Antagonist
09. Thrown To The Wolves
10. In Solitude
Besetzung:
Craig Land –  vocals
Shoi Sengupta –  guitars
Paul Nazarkardeh –  guitars
Tom Atherton –  drums
Arran McSporran –  bass
Internet:
DE PROFUNDIS WEBSITE